Photography and digital art competition for CityU EE students
Application Period :  21 December 2020 – 22 February 2021
Application:  Login and upload your photo / digital art to Google drive. Details please refer to the poster.  
Round Table Discussion on Teaching Philosophy
To prepare PhD students to teach when serving as Teaching Assistants for the Department and move on as a faculty after graduation, a round table discussion on teaching philosophy hosted by Dr Kelvin Yuen was held over Zoom on 8 January 2021.
Winners of Outstanding Teacher Awards 2020, namely Dr Ray Cheung, Mr Van Ting, Dr Cheng Wang and Prof Moshe Zukerman, were invited to share their teaching philosophy and experiences with students. Important factors to effective teaching and learning, innovations in teaching, blended approach on programming education, etc., were discussed on the day.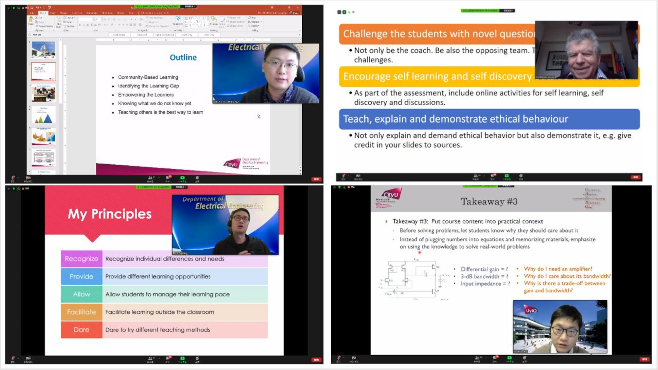 Sharing on Effective Teaching
A sharing session hosted by Dr Kelvin Yuen was held over Zoom on 6 January 2021 to promote effective teaching among PhD students who serve as Teaching Assistants (TA) for the Department.
Ways for achieving simple, consistent and accurate marking and checking; how to make use of Canvas for efficient marking; and tips on improving teaching quality were shared. Some TAs were invited to share their teaching experiences as well. The talk ended with active discussion on effective teaching practices among participants.