The following gives brief information on upcoming and past outreach activities at the department. We hope the multimedia from past events can help you know more about our department and electrical engineering; please consider signing up and meeting us at a future event!
Programme Information Session 2020 for Direct Applicants
Four Programme Information Sessions were arranged for prospective non-JUPAS applicants who are interested in programmes offered by Department of Electrical Engineering (1205, 1573A, 1585A, 1597A) between 3 November 2020 and 12 November 2020. 104 students from Community College of CityU, HKU Space Community College, PolyU HK Community College, and Vocational Training Council attended. In the Information Session, the Admission Tutors Dr Leanne Chan and Dr Alex Wong introduced about the department, its programmes and admission information to students. In addition, EE current students were so enthusiastic to share their University life and various learning experiences with the participants.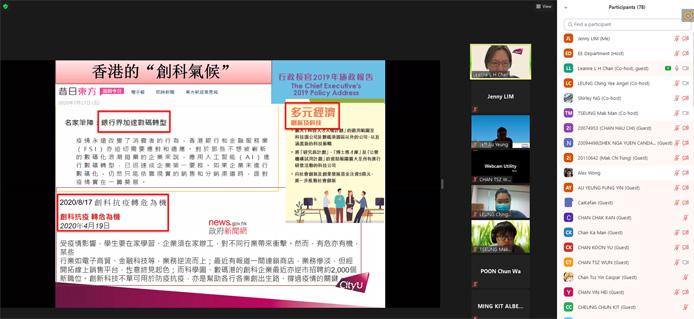 Please refer to the video clip here.
(MingPao Daily大學道講堂) Students from the Department of Electrical Engineering of City University can develop 6G-8G technology products?!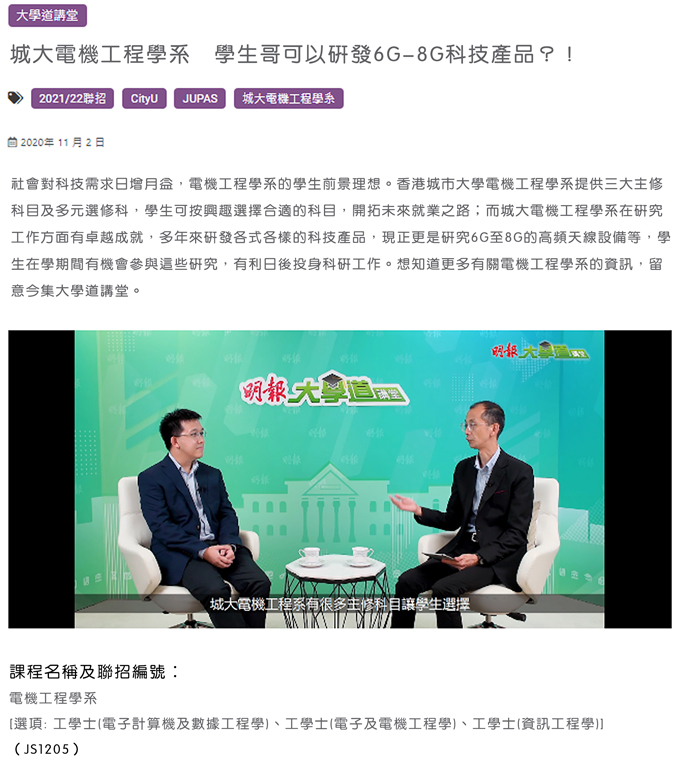 URL: Link to the video
Virtual CityU Information Day 2020
Virtual CityU Information Day was held on 24 October 2020 over Zoom. EE Department offered twelve sessions from 9:30am till 6pm on the day, covering admission talks, inspirational talks, student and graduate sharing, and laboratory tour. Curriculum and programme features, admission requirements, career prospects, learning opportunities and resources, student learning experiences, laboratory facilities, student residence life, etc., were introduced to the 500 some visitors who joined the various sessions on the day. We look forward to welcoming these prospective students to join our EE big family next year.
You may watch the event videos and download programme leaflets from here.

CityU EE Summer School 2020
The Department of Electrical Engineering and 17 secondary schools jointly organized the 4th EE Summer School in summer 2020. The theme of this summer school was "A Revolution of Online STEM Education". It aimed at cultivating secondary students' interest in engineering innovation and boosting their confidence in communicating in a collaborative environment through team work.
On every Saturday between August 1st and August 22nd, three 6-hour online parallel classes were conducted. Three different kinds of STEM modules were designed to guide participants to go through an eye-opening learning journey through a series of lectures and hands-on activities on microprocessor-controlled systems, AI and Machine Learning, and cloud computing. They were conducted by Professor Henry Chung, Dr Ray Cheung, and Mr. Van Ting. This meaningful event successfully attracted 123 students from 29 secondary schools. All students found the programme useful, interactive, interesting, and enjoyable.
A closing ceremony was held on August 29th afternoon. Our Head of Department, Professor Stella Pang presented certificates to the winners of the competitions. There were also sharing of the contents of the modules by student facilitators; and winners and school principals shared their learning experience and feelings about the programme. Thanks to our sponsors Winstars Enterprise HK Limited and Hong Kong Productivity Council for their generous support.
URL: Link to the video

CityU EE Summer Taster

In response to EDB's advocacy of promoting and facilitating STEM education, we are extending our invitation to elite secondary students to join our CityU EE Summer School Programme 2020, which will be run online in response to the coronavirus pandemic worldwide. The four-day Summer School is tailored for S4 and S5 students. We aim at cultivating their interest in engineering innovation through teamwork, boosting their confidence in communicating in a multi-national environment. The event will take place on the first four Saturdays of August 2020.
For more information and to register, please access the CityU EE Summer Taster webpage here.
一切從「芯」開始 · 智能手機是如何運算的: CityU-Learning Summer Classroom for Secondary School Students
一切從「芯」開始 · 智能手機是如何運算的, conducted by Dr Ray Cheung, Associate Professor of Department of Electrical Engineering was successfully held on July 31, 2020. The talk was very inspiring and received a record high registration with over 330 Form 1 to Form 6 secondary students participated in this event. The basic principles of IC design, CPU Design, and the importance of solid foundation in Mathematics and Science education in high school were taught in the talk.
We are pleased to share Dr. Ray Cheung's ppt file.

This is the second talk from our EE department, about CPU Design in Smart Phone.
JS1205 Programme Information Session and Interviews plus Student Recruitment Session
This year, the JUPAS Programme Information Session and Student Interviews was held on 13th July 2020. Close to 220 F.6 students who were serious in their final choice of studies joined the event, which comprised an inspirational talk in EE discipline, a programme information session about JS1205 and the bloom of EE sector in the recent job market, student sharing on their university life and different enriching learning opportunities. The event ended with a breakout group interviews with the faculty. In the hours of event, the participants showed to us their enthusiasm in EE studies and how they are impressed by the prevailing technologies and their applications in all areas of life.
Another Student Recruitment Session was held a week after with a smaller student group for a more in-depth exchange and sharing. The Head of EE Department Prof Stella Pang kick-started the session by exposing to the students the endless opportunities and prospects in different technological fields. What followed were a sharing session by our graduate, and conversations with the admission team.
Best wishes to all the F.6 students in their DSE results and future studies!
The following faculty participated in the sessions:
Dr Sammy Chan, Dr Rosa Chan, Dr Leanne Chan, Dr Ray Cheung, Dr Bernard Chiu, Dr Derek Pao, Prof H C So, Dr Wallace Tang, Dr Steve Wong, and Dr Alex Wong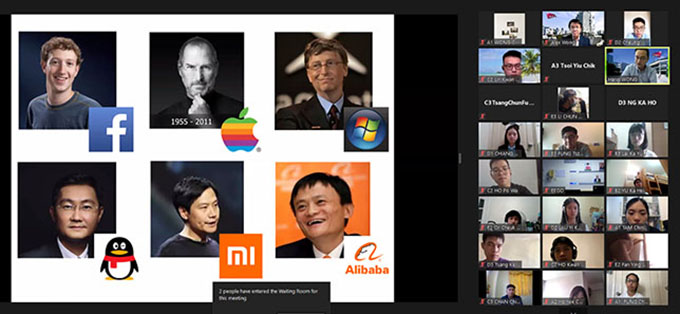 EE Faculty participated in BOLD@CityU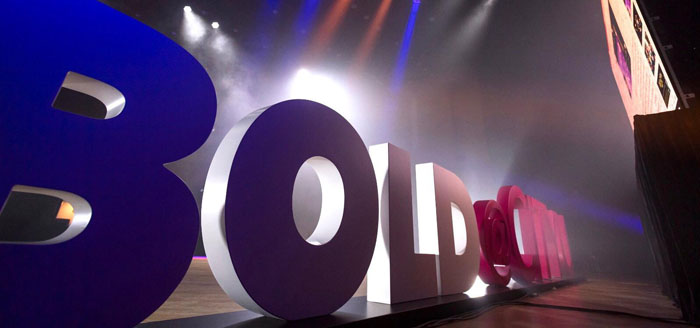 Three EE Faculty, Professor Stella Pang, EE Head and Chair Professor, Professor Ron Chen, EE Chair Professor and Dr. Ray Cheung, EE Associate Professor were participated in BOLD@CityU, which is an exciting new initiative that promises to inject creativity into online learning. The iconic speakers had attracted overwhelming responses from the participants.
CityU Consultation Week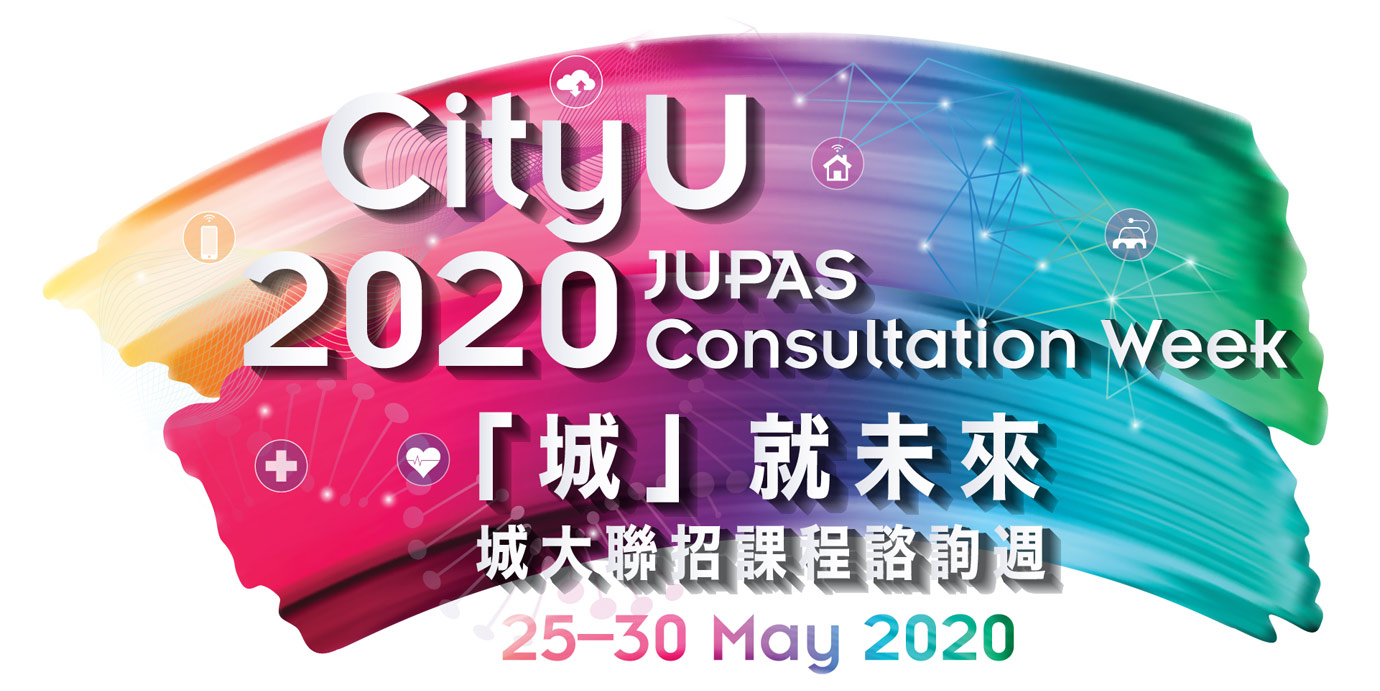 CityU has conducted its inaugural online Consultation Week. The EE Department has held three 1-hour sessions of student sharing and Professor Q&A. Hear from our current students' wonderful experiences at CityU EE, how they survived and thrived in the programme, and how their studies are preparing them for the future!
Please access the EE sharing and Q&A sessions here:
https://www.youtube.com/embed/UrIgUwmwyhA
https://www.youtube.com/embed/LAlLb4q1CYQ
https://www.youtube.com/embed/R9yAUmPFRnQ
The CityU-EE Principal Nomination Scheme (PNS) - Online Learning for High School Students

The CityU-EE department has organized the 2nd PNS scheme in Apr - May 2020 using the CityU-Learning online approach with support from over 20 local secondary schools, 53 S.4, and S.5 students were admitted to this scheme. Six EE Guest lectures were conducted by six EE faculty members with 100% positive feedback from the students. Topics covered in the online lessons included Artificial Intelligence in EE, Electronic System Design, Electromagnetic Waves, Antenna Design, Bio-electronics, and Career prospects in EE.
The PNS scheme aims to
1) Promote the importance of engineering study;
2) Engage the nominated F4 / F5 / F6 students from the school principals and provide mentorship;
3) Attend Guest lectures by EE Faculty members;
4) Gain hands-on experience in Lab session;
5) Develop CityU-EE Principal Nomination Scheme (PNS) community at High Schools.
Prof Ron Chen gives talk in「求學與治學」講壇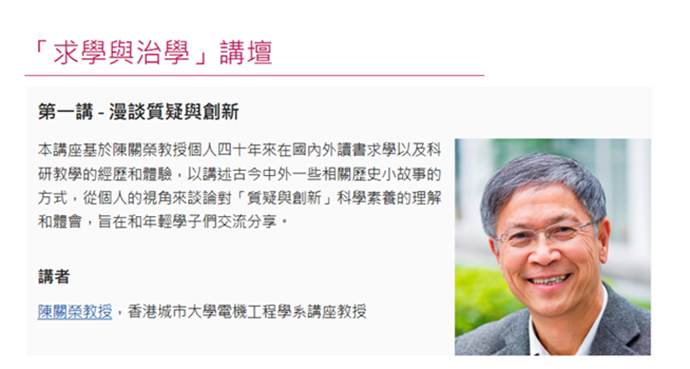 The Provost Office is proactively launching different School Outreach activities to high school and university students to promote CityU education.  「求學與治學」講壇  is one of the initiatives that promotes an exchange platform between scholars and students on scholarly exploration. The first seminar titled「漫談質疑與創新」delivered by Prof Ron Chen, EE Chair Professor, w as held successfully on 15 April, 2020.  The talk is very inspiring and well attended, and we are pleased to share Prof Chen's ppt file  and the recording clip.
First-ever CityU Online Learning Taster Workshops for High School Students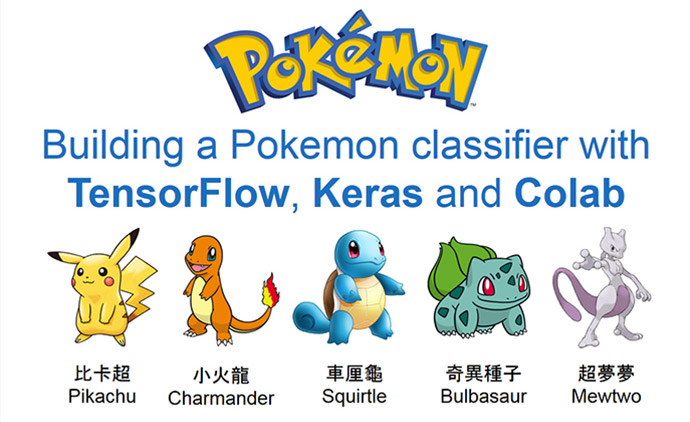 The first-ever CityU Online Learning Taster Workshop by EE for high school students has been launched in February 2020, which attracted over a hundred of S.1 to S.6 students from 50 local secondary schools. The EE workshop titled 「精靈寶可夢的人工智能工作坊」conducted by Dr Ray Cheung, Associate Professor of Department of Electrical Engineering, attracted over 70 participants as an exciting kick-start for the workshop series. Students found the online teaching platform interactive which got them an early taste of prevailing technological topics such as Artificial Intelligence in EE.
News release in Sing Tao Daily on March 5, 2020. We are pleased to share Dr. Ray Cheung's recording clip.