2023 suspended
Enquiry: Miss Angela Fok (cyfok2@cityu.edu.hk)
For CityU EE Students
Introduction
With an aim to elevate our undergraduate students' international exposure, the Department of Electrical Engineering is organizing a 4-week summer programme with our partner universities. Through activities such as technical workshops, hands-on trainings, seminars and talks, company visits, mini-projects and presentations, students will gain certain technical know-how relevant to their major studies during their summer vacation.
Partner Universities
We have lined up with the following partner universities for the summer programme:
Dankook University (DKU), South Korea 檀國大學
National Cheng Kung University (NCKU) , Taiwan 國立成功大學
University of Hradec Kralove (UHK), Czech Republic
Programme Schedule 2019 and Host Universities
(Reference only, 2023 suspended)
Host University
Location/ Country
Dormitory
Check-in(1)/-out
Quota(2)
Programme
DKU
Seoul/Gyeonggi-do, Korea
11 July/ 9 Aug
22
NCKU
Tainan, Taiwan
3 July/ 5 Aug
24
UHK
Hradec Kralove, Czech Republic
7 July/ 6 Aug
26
Remarks:
Students must depart for the host university from Hong Kong and check in the dormitory in group.
Host universities reserve the right to adjust the quota according to the actual situation until the placement is finalized and announced. Thus all information is provided "as is" without warranty of any kind and is subject to change without notice.
Training Content
Technical Topic of Workshops/ Training
Topics are to be decided and announced by the host university. Course schedule and relevant information will be uploaded onto this webpage once available. Students may refer to previous cohorts for reference.

Company Visit, Outing & Seminar Talk
Company visits to industry are organized for understanding the real-life environment about the management and organization, and trading practices of companies in the hosting countries/ areas. Outings and cultural activities may also be arranged by some host universities.
Credit Transfer upon Completion of Summer Exchange
Assessment scheme, such as group presentation, written reports, attendance requirement, is designed by host universities. Upon successful completion of the summer programme by obtaining a satisfactory grade in all required course(s) and fulfilling the attendance requirement, students may apply for credit transfer for a 3-credit-unit GE course, namely GE1339 Wireless Connectivity in Modern Society, under Distributional Area 3 (Science and Technology). Students are also required to submit reflective journals to the General Office upon their return to Hong Kong. Transcript of study issued by host universities will be disseminated by General Office.
Eligibility, Screening Criteria and Places Allocation
Eligibility
Applications will be considered from those who meet the following requirements:
EE undergraduate student; and
No intention of change of home major; and
CGPA of not less than 2.5 in Semester B; and
No required/pre-enrolled courses (e.g. MA2001, MA3001) to take during summer; and
No engagement in any parts under Engineering Training II (EE4092/ EE4095/ EE4096/ EE4097/EE4099/ EE4291) that lead to seemingly possible time clash with the summer exchange, namely Industrial Placement Scheme, Industrial Attachment Scheme, or Overseas Internship Scheme; and
No commitment in graduating in Semester B (i.e. Final year students may apply for graduation in 2019 Summer Term instead) ; and
Fulfillment of the English language requirements (such as HKDSE L4, IELTS 6.5, Grade C or above in GE1401, GE2410, EN2271) for exchange programme listed out by GSO. Below is the extracted information.
Students who wish to participate in the Student Exchange Programme must meet one of the following minimum requirements set by the University, unless you are seeking entry to a programme conducted in Chinese language at a partner institution in the Mainland China or Taiwan:
A minimum TOEFL score of 79 (iBT) or 550 (paper-based test)
A minimum IELTS overall band score of 6.5
Grade C or above in one of the following subjects:

HKALE AS Use of English
HKALE English Literature
GCEAL English Literature (or grade B GCSE English Language)
An English course approved by the Senate for fulfilling the University language requirement, or

Level 4 of HKDSE English Language
Any other equivalent English proficiency result, including a minimum of 1650 on SATI or International Baccalaureate Diploma with an overall minimum score of 28.
Screening Criteria
Students need to indicate their choice of preferences on the host institution in their application. Identified students may be invited for a selection interview/ individual consultation session, and the general selection criteria are as follows:
Good academic and disciplinary standing
Punctual submission of all required documents and payments
Good communication skills & a strong sense of responsibility
Outgoing personality and eagerness to learn from a different culture
Places Allocation
Number of places is subject to availability of quotas allocated by host universities. Suitable students will be ranked by their CGPA of semester A and allocated the most preferred place of their personal choice. Successful applicants whose CGPA do not meet the minimum requirement of 2.5 in Semester B may be disqualified from applying for student exchange fund or participating in summer exchange.
Application
Application Procedure
The procedure for applying to the Summer Exchange is as follows:
To find out background of the host universities, research your preferred summer programme locations.
Seek advice from your parents/ family on financial support and your study plan.
Sign up through on-line registration.
Wait for emails regarding the acknowledgement and/or notice of invitation for interview/ consultation session from General Office.
Make payment for deposit and air-ticket purchase and submit relevant document to confirm your acceptance of the invitation to offer.
Receive your acceptance letter from the host university, which is a confirmation of the official offer.
Apply for student visa/ entry-permit, if necessary.
Attend the Pre-departure Briefing.
Application Timeline 2019


(Reference only, 2023 suspended)
Key Date
Timeline
Application Opens
Sem B week 1
Application Ends
Sem B week 12
Announcement of Placement
Main round offers will be announced in Sem B week 5 - 6
Remaining places will be allocated on a rolling basis  
Deadline of Acceptance of Offer
Within 4 days upon receiving offer
Acceptance of Offer
Students will be required to pay a deposit as caution money to confirm their acceptance of offer. Failure to confirm the acceptance of offer will lead to elimination from the offer list, and the place will be offered to someone on the waiting list.
Pre-departure briefing
It is compulsory for all participants. Students should make themselves available for all specified dates.
|   | Pre-departure Briefing |
| --- | --- |
| Date & Venue | 25 April 2019 (Thu), 3pm – 5pm, CMA Lecture Theatre (LT-15), Floor 4, Yeung Kin Man Academic Building |
| Content | Getting to know your travelling buddies; preparation for and requirements of summer programme, etc. |
Fees & Payment
Caution Money
Caution money is to secure students' attention to the rationale and certain funding principles of the summer programme. It will be collected upon acceptance of offer as a deposit to cover part of the accommodation fee and make good any outstanding debts to the University/host university incurred in. A full amount, or the sum less any deductions made for outstanding debts, shall be refunded upon satisfactory completion of the summer programme.
Overseas Travel and Living Allowance
Successful applicant may apply for Student Exchange Fund (SEF) operated under GSO as an allowance on traveling and overseas living expenses.
Accommodation and Programme Fee
Both accommodation fee and programme fee will be waived given that students are obliged to complete the whole summer programme by obtaining a pass grade in all required course(s) and fulfilling the attendance requirements. Meanwhile, students are responsible for all other expenses on airfare, insurance, food, sightseeing and living items, etc.
Accommodation will be arranged by host institutions. On-campus accommodation is up to availability and is not guaranteed. The set-up and housing costs, such as electricity & gas, laundry, internet & phone, vary from university to university. You need to have a realistic plan on the amount of money that you will have to spend.
Airfare
Department would make an attempt to purchase group flight tickets (with both itinerary of arrival and departure fixed) at a more favorable rate for students. Students are required to settle full payment of the airfare once the reservation is successful.
Travel & Medical Insurance
All students are required to purchase travel and medical insurance coverage for the entire period of staying abroad. You must enroll in any mandatory insurance plan designated by your host university. If no such plan is provided, you should obtain a travel and medical insurance policy from a licensed insurer and submit a proof of purchase to Department before your departure.
Your insurance policy should cover:
Medical expenses (accidents and sickness)
Hospitalization
Personal accidents
Emergency medical evacuation/repatriation
Loss of luggage and personal belongings
Flight delay
Personal liability
Retain all receipts and documents relating to any insurance claim you might wish to make, and be prepared to provide them to the insurer.
Safety Profile: Emergency Contacts
1

駐大韓民國大使館
EMBASSY OF THE PEOPLE'S REPUBLIC OF CHINA IN THE REPUBLIC OF KOREA

大韓民國漢城特別市鐘路區孝子洞54番
54 HYOJA-DONG, JONGNO-GU, SEOUL, THE REPUBLIC OF KOREA
chinaemb_kr@mfa.gov.cn
http://kr.chineseembassy.org  

2

EMBASSY OF THE PEOPLE'S REPUBLIC OF CHINA IN THE CZECH REPUBLIC

Ambassador: Ms. Ma Keqing
Address: Pelleova 18, 16000 Praha, 6-Bubenec, Prague, Czech Republic
Tel: +420-233028800
Fax: +420-233028880
Office Hours: 08:00-12:00, 13:30-17:00, Monday-Friday (except holidays)
Email: recepcechina@seznam.cz

3

香港政府一站通
GovHK

遺失身份證及香港特區旅行證件應怎麼辦?
http://www.gov.hk/tc/residents/immigration/tips/loseid.htm
4

Hong Kong Immigration Department

協助在外香港居民小組 24-hour Emergency Hotline
(852) 1868
5
Local Emergency Numbers

Korea
Fire & Ambulance – 119;  Police – 112

Taiwan
Fire & Ambulance – 119; Police – 110

Czech Republic
General emergency: 112; Ambulance: 155; Police: 158

France
Emergency: 112
Safety Guidelines & Recommendations for Outbound Students
(source: adapted from http://www.cityu.edu.hk/geo/StudentExchange/safety-guidelines.html)
| | |
| --- | --- |
| 1 | Read and carefully consider all pre-departure and orientation materials provided by CityU (such as from GSO) and your host institution that relate to safety, health, legal and/or other aspects. |
| 2 | Consult your doctor about your plans to manage your health condition overseas when necessary. Consider your physical and mental fitness and other personal circumstances before registering for and participating in any activities. |
| 3 | Provide to the University and your host institution any information that you feel necessary to ensure a safe and healthy exchange study experience. |
| 4 | Inform your parents and anyone else who may need to know about your participation in the student exchange. Purchase a local cell phone number. Provide them with emergency contact information and keep in contact with them on a regular basis. |
| 5 | Learn about local weather conditions, dietary habits and anything else that might have an impact on your health or safety when making daily choices and decisions.  Promptly and politely express any health or safety concerns to an appropriate person. |
| 6 | Be responsible for your own decisions and actions. Obey the regulations of your host institution and the laws of your host country and be respectful of local customs. |
| 7 | Keep the appropriate staff at your host institution informed of your whereabouts and let them know if you encounter a problem.   |
| 8 | Avoid travel to any location where travel may be dangerous. |
| 9 | Keep the emergency contacts with you all the time.  Be prepared to have access to additional funds in case of an emergency. |
| 10 | Share your difficulties and problems with your peers and seek help from the appropriate staff at your host institution and/or home department when necessary. |
| 11 | Follow all guidelines and instructions given by GSO that are applicable.    |
For Overseas Students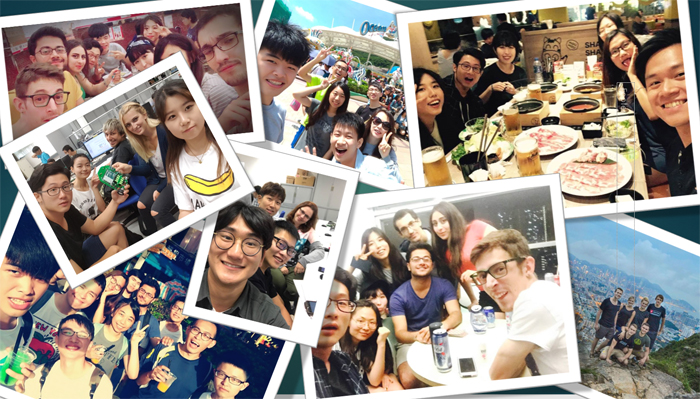 CityU EE International Summer Programme 
(Reference only, 2023 suspended )
The Summer Programme 2019 was scheduled for 5 July - 9 Aug as below.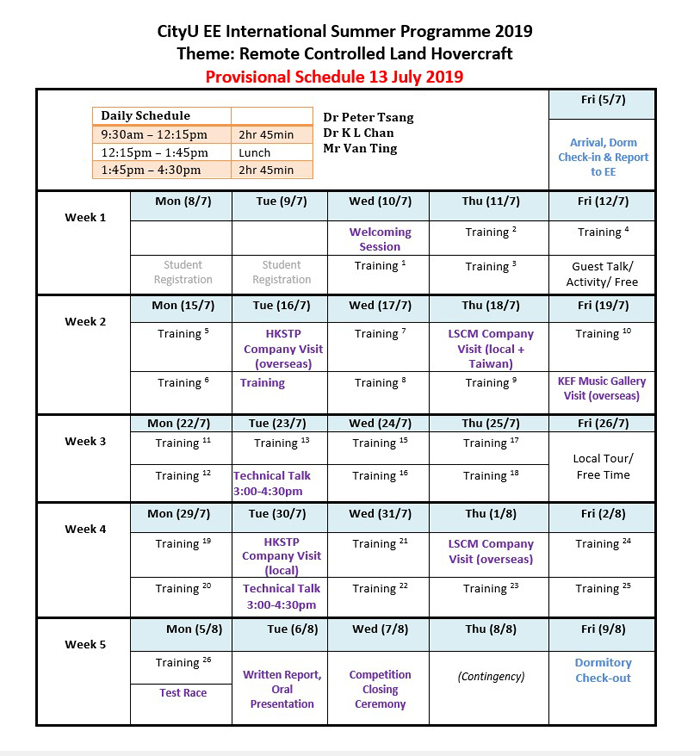 Application
No direct application will be accepted from overseas students. Application is only limited to a specified group of students of our partner institutions.
Training Content
Technical Topics for Workshops/ Training
The programme is conducted on a combination of lecture-laboratory basis. Typically, students from different universities are grouped to work as a team in performing hands-on exercises. The course is intensive and conducted in English. Students attending are expected to take initiatives to explore areas that they are not familiar with and solve problems and to fully participate in activities together with students from different cultural and language backgrounds.
Visit & Seminar Talk
Visits and seminar talks will be arranged with an aim to provide visiting students with knowledge in the obligations, roles and professional conduct of an engineer in a modern society. Eminent professionals are invited to deliver talks achieving the aims. Company visits to industry are organized for understanding the real-life environment about the management and organization, and trading practices of companies in the hosting countries/ areas.
Oral Presentation
Group Presentation is a requirement scheduled at the end of the summer programme for students to conclude and present what they have learned not only on technical skills and knowledge, but also on out-of-classroom aspects such as cultural difference, people they met, learning experience, etc.
Local Tours and other activities
Some interesting elements for participants to have a thorough experience of the vibrancy of city and the cultural differences among people of different places will be arranged.
Visa Application to Hong Kong
When we receive your information from your home institution, we will issue you a letter of acceptance for the Summer Training Camp. For applying for an entry permit to Hong Kong, you should study and follow the application procedures provided on the webpage of CityU's Global Engagement Office (GEO).
Campus Location and Accommodation
Accommodation
On-campus accommodation will be reserved for all participating students for the period of summer programme. Students will be allowed to stay at the dormitory within the length of permitted stay specified on the Student Visa. Students should arrive in Hong Kong according to the details provided on the letter of acceptance.
Room allocation will be pre-arranged by Student Residence Office. The dormitory allows 24-hour check-in service, and students may check in at any time of a day. If the Student Residence Office (SRO) is closed, the 24-hour Security will handle the registration and allow students to move into the rooms that have been reserved for them. Please study the "Handbook for Residents" published by SRO for more information.
Campus Location
The Mass Transit Railway (MTR) is one of the most convenient means of public transport in Hong Kong. CityU is located right next to Kowloon Tong MTR Station.
Getting to CityU- From Hong Kong International Airport
Please download reference materials at here.
By Mass Transit Railway (MTR) – take the MTR from the Airport Station to Kowloon Tong Station, where CityU is located. You will need to change the line at Tsing Yi, Lai King, and Prince Edward stations. It will cost you less than HK$80 and take you about 45 minutes. Please visit the website of MTR to check the exact route and fare.
By taxi – it will take 25-30 minutes and cost about HK$240 to get to CityU. There will have an extra charge for each piece of luggage and toll fees for crossing bridges or tunnels. Ask the taxi driver to take you to Student Residence of City University of Hong Kong, 22 Cornwall Street (intersection of Cornwall Street and Tat Chee Avenue), Kowloon Tong. 九龍塘 歌和老街22 香港城市大學 學生宿舍 (歌和老街和達之路交界). When you get out of the taxi, you are in front of the Student Residence Office.
By City Bus – take the (Airport) City Bus No. E22 (Direction: AsiaWorld Expo --> Lam Tin (North). It costs about HKD$18 (Octopus Card is applicable) and will take you about 1 hour 15 minutes or more, depending on the road traffic condition. Get off at:  Shek Kip Mei Park, Conwall Street (石硤尾公園, 歌和老街).  The Student Residence at Cornwall Street is just beside the bus stop. The bus operates between 0530 and 0000.
Getting to CityU - From Hung Hom Railway Station
By MTR – take the East Rail Line at Hung Hom Station and get off at Kowloon Tong Station (just two stops away: Hung Hom – Mongkok – Kowloon Tong). Please visit the website of MTR for more details.
By Taxi – it will cost about HK$50. There will have an extra charge for each piece of luggage
Travel and Medical Insurance
Students are required to have suitable and adequate insurance for the entire period of their study at CityU in Hong Kong. Before coming to CityU, you should purchase an insurance plicy whose coverage includes, but is not limited to, travel, personal accidents, medical expenses, hospitalization and emergency evacuation/ repatriation. Noted that specialized healthcare is costly in Hong Kong, so you are strongly advised to secure health insurance that covers the entire period of your stay here. Please refer to and follow the advice provided by CityU's Global Engagement Office (GEO).
Certificate, Credit Transfer & Exemption
You should consult your home institution for the possibility and arrangements of credit transfer or course exemption. A certificate of attendance and a performance report will be issued to students who have completed the training camp.
Pre-arrival Information
Safety
Although Hong Kong is comparatively a safe city, it is always in your best interest to stay vigilant and safeguard your personal well-being at all times.
Hong Kong is left-hand traffic in driving. Always remember to check the traffic on your right hand side and then the left before crossing the road.
In the event of an emergency, call 999 for help (police, fire, ambulance)
Weather/ Climate
Hong Kong's summer is hot and humid, with an average temperature range of 28°C – 35°C and humidity of about 90%.
Electricity
The standard electrical voltage in Hong Kong is 220 volts AC, 50Hz. The majority of electrical sockets take a three-pronged plug. Transformers and adaptors for electrical / electronic devices can be purchased in Hong Kong.
Smoking
Smoking is prohibited in most indoor areas, including the university campus and its buildings.
Some outdoor and public areas are designated as statutory no smoking areas, such as public beaches, swimming pools, public transport facilities and escalators.
Any person who smokes or carries a lighted tobacco product in the prohibited area commits an offence and is liable on summary conviction to a maximum fine of HK$5,000.
Octopus Card
Octopus is an electronic stored-value card that can be accepted by most public transport including MTR, buses, minibuses and ferries. It can also used in CityU's campus catering outlets as well as most convenience stores, supermarkets and some fast food restaurants in Hong Kong.
Communication
Local calls are free from private landlines, and cost HK$1 per five minutes from public telephones. Alternatively, you can use your own mobile phone in Hong Kong if it supports the GSM 900/1800, CDMA2000 and WCDMA frequency bands (note that the GSM 1900 does not work in Hong Kong).
Estimated Cost of Living
The estimated cost of living given below is for reference. The actual cost may vary among individuals.
Expenditure
Monthly cost (HK$)
Food
3,000
Local transport
300
Personal expenditure (e.g. medical expenses,
telephone bills and laundry)
900
Sightseeing
300 – 1,500
Total
4,500 or above
For Secondary Students
In response to EDB's advocacy of promoting and facilitating STEM education in secondary schools, we are inviting some secondary schools to nominate their elite students to join our summer taster programme, which is in parallel with the CityU EE International Summer Programme. We tailor the learning materials and activities for S4 and S5 students, aiming at cultivating their interest in engineering innovation as well as boosting their confidence in communicating in an international environment through team work.
Video – Summer Taster Programme 2019
https://www.youtube.com/watch?v=9BQXJhz0_mQ&feature=youtu.be
Theme
Remote Controlled Land Hovercraft
Duration 
(Reference only, 2023 suspended)
(Batch 1 – Full Programme) 10 July 2019 – 7 August 2019 (Monday to Friday)

(Batch 2A – Beginner Programme) 17 July 2019 – 25 July 2019 and 7 Aug 2019 (Monday to Friday)

(Batch 2B – Beginner Programme) 29 July 2018 – 6 Aug 2019 and 7 Aug 2019 (Monday to Friday)
School-based nomination
Each invited school may nominate a maximum of 4 students, who

a) have a strong interest in STEM; and
b) are taking Science, ICT, Physics and/or MA1/M2 subjects; and
c) are outgoing and confident in communicating with new acquaintances in English, Mandarin and Cantonese
Programme Fee
Free of charge; HKD1000 caution money to be refunded upon completion of the programme
Media Coverage
CityU EE: Summer Taster Programme for Senior Secondary Students 2018
https://news.mingpao.com/pns/dailynews/web_tc/article/20180810/s00002/1533839386543
Student Peer Facilitators
It as a valuable opportunity for students to interact and exchange innovative ideas with overseas students and to experience how creative minds work together across cultures and languages. Student helpers will take an active role in engaging those exchange students in creative team projects as well as other interesting on-campus activities and outings, which aim to cultivate a technological discovery culture and a supportive learning atmosphere.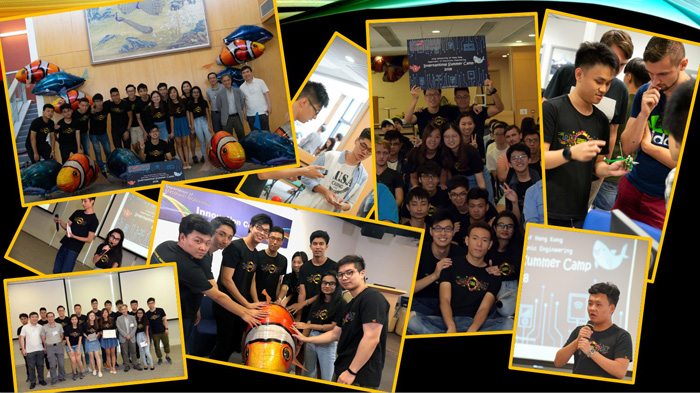 Job Duration
20 hours of trainings & meetings in May - June
150 or more hours during Summer Programme in July - early August
Major Job Duties
Job duties will cover the following areas:
A majority of work hours is related to practical skill training and facilitate participants to accomplish innovative team projects by offering solutions and alternative approaches to problems that they encounter.   
Plan and organize cultural-leisure activities and outings for overseas exchange students, who has little exposure to Hong Kong and Asian culture; those activities will heavily shape their impressions of Hong Kong and help develop their bonding as well as friendship with CityU students;
Take up roles as mentors of senior secondary elite students, who join our Taster Programme;
Administrative duties and logistics support to the summer programme.
Qualities of Ideal Candidates
1. Have basic foundation in JAVA/Android Studio and electronic circuit development

2. Possess the following personal traits:
cheerful, helpful, reliable and punctual
enthusiastic about learning new things and making new friends
a good team player and take initiative to make contribution to the team
confident in oral English and Mandarin and speaking in front of people
photo-taking, video recording and producing skills will be an advantage
3. Students living in the SRO dormitory will be an advantage
News & Links
Outbound Exchange Students 
(Reference only, 2023 suspended
)
| | | |
| --- | --- | --- |
| Online Application | Sem B week 1 – 12 |   |
| Placement Results | Main Round Sem B week 5 – 6 | 1st Round Offer Results (22 Feb 2019) |
| Pre-departure Briefing | 25 April 2019, Thursday, 3:00pm – 5:00pm, LT-15 |   |
| Pre-departure Briefing Materials | |   |
Inbound Exchange Students

How to get to CityU from the airport?

Address Label for Taxi Driver

MTR Route

Bus Route

Student Residence Location Map
---
Last Updated : 1 Apr  2022