A Biosketch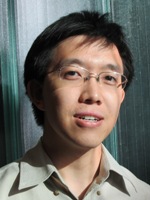 I immigrated from Hong Kong to Canada at the age of 10, and grew up in the Greater Toronto Area. I received my B.A.Sc. degree in engineering science (2006), and my M.A.Sc. (2009) and Ph.D. (2014) degrees in electrical engineering, both from the University of Toronto, Canada, where I have studied under the supervision of Prof. G.V. Eleftheriades. I joined the City University of Hong Kong in January 2018, as an Assistant Professor of Applied Electromagnetics in the Department of Electronics (now Electrical) Engineering.
My research interest ranges broadly in the fields of radio frequency engineering and photonics. Specifically, my current and recent investigations relate to the design and demonstration of metasurfaces and super-resolution imaging systems, which operate from RF to optical frequencies. Some other research topics of interest are listed below
I enjoy playing badminton, chess and skiing while away from research. As a born-again Christian, I also enjoy personal time in Bible reading and prayer, and participate regularly in church meetings and activities.
Research Interests
Metasurfaces, metamaterials, super-resolution imaging, biomedical and medical imaging, superoscillations, near-field antennas, antenna arrays, propagating and evanescent waves, holography, wireless power transfer, optics, electromagnetics.
Selected Awards
URSI Young Scientist Award (2017)
Raj Mittra Travel Grant (2015)
TICRA Grant (2014)
IEEE Antennas and Propagation Society (AP-S) R.W.P. King Award (2012)


For the best Transactions paper in 2011 authored by a young scientist aged 36 years or younger

IEEE Microwave Theory and Techniques Society (MTT-S) Microwave Engineering Fellowship (2012)
IEEE AP-S Doctoral Research Award (2012)
IEEE AP-S Symposium Student Paper Competition Finalist (2010)
NSERC Canada Graduate Doctoral Scholarship (NSERC CGS D) (2009 - 2012)
Ontario Graduate Doctoral Scholarship (Declined) (2009)
Professional Involvements
Senior Member of the IEEE (APS, MTT-S and Photonics)
Techical Program Committee Vice Chair for the 2020 Asia-Pacific Microwave Conference (APMC 2020)
Guest Co-Editor for the IEEE Transactions on Microwave Theory and Techniques: 2020 APMC Special Issue
Techical and/or Review Committee Member for

The IEEE International Symposium on Antennas and Propagation / USNC-URSI National Radio Science meeting (AP-S/URSI) (2016-2020)
The 2016 IEEE International Conference on Computational Electromagnetics (ICCEM 2016)

Session Chair for

The 2020 Asia-Pacific Conference on Antennas and Propagation (APCAP 2020)
The 2020 IEEE International Symposium on Antennas and Propagation (AP-S/URSI 2020)
The 2020 Asia-Pacific Conference on Antennas and Propagation (APCAP 2020)
The 2019 Asia-Pacific Microwave Conference (APMC 2019)
The 2019 IEEE MTT-S International Wireless Symposium (IWS 2019)
The 2018 IEEE International Workship on Antenna Technology (iWAT 2018)
The 2017 IOP Conference on the Physics and Technology of Superoscillations
The 2015 IEEE International Symposium on Antennas and Propagation (AP-S/URSI 2015)

Technical Judge for

Best Student Paper Competition: The 2020 UK/Europe-China Workshop on Millimetre-Waves and Terahertz Technologies (Tianjin, China, Convened online)
Best Poster Competition: The 2019 IEEE MTT-S International Wireless Symposium (Guangzhou, China)
Best Paper Competition: The 2018 IEEE HK AP-MTT Postgraduate Student Conference (Hong Kong, China)

Active reviewer for

Nature Communications
Light: Science and Applications
Optica
ACS Photonics
IEEE Transactions in Antennas and Propagations
IEEE Transactions in Microwave Theory and Techniques
IEEE Transactions in Signal Processing
IEEE Antennas and Wireless Propagation Letters
Journal of the Optical Society of America B
Applied Physics Letters
IET Electronics Letters
PIER Journal of Electromagnetic Waves and Applications
Microwave and Optical Technology Letters

Member of the Appeal Board of the Electrical and Mechanical Services Department (EMSD) of the Government of Hong Kong