The JUPAS Programme Information Session cum Group Interviews 2023
The JUPAS Programme Information Session cum group interviews were successfully conducted on 7 July 2023, with the participation of approximately 360 F.6 students who had selected JS1205 as one of their preferred areas of study. These students were serious in their final choice of studies and joined this event.
The event commenced with an inspirational talk and programme information session by Prof. Ray Cheung and Prof. Leanne Chan. They provided an overview of our programme, highlighting the successes of our EE graduates and the growth of the EE sector in the recent job market. Subsequently, the students were divided into groups. They were given a tour of our State Key Laboratory of Terahertz and Millimeter Waves, a demonstration of robots by our RoboCon team, and a showcase of three projects by our current students and graduates. Parallel sessions of group interviews were also arranged.

During the event, all students showed their enthusiasm for studying EE and how impressed they were by the prevailing technologies and their applications.

The following faculty participated in this event: Prof. CHEUNG Ray C C, Prof. CHAN Leanne L H, Prof. CHAN Katie K H, Prof. BASU Arindam, Prof. CHAN Andy H P, Prof. CHAN K L, Prof. CHAN Nelson S C, Prof. CHAN Rosa H M, Prof. CHEN Mu Ku, Prof. CHOW Tommy W S, Prof. JIANG Chaoqiang, Prof. LEUNG Andrew C S, Prof. WONG Steve Hang, Prof. YU Alex Xianghao, Prof. YUEN Kelvin S Y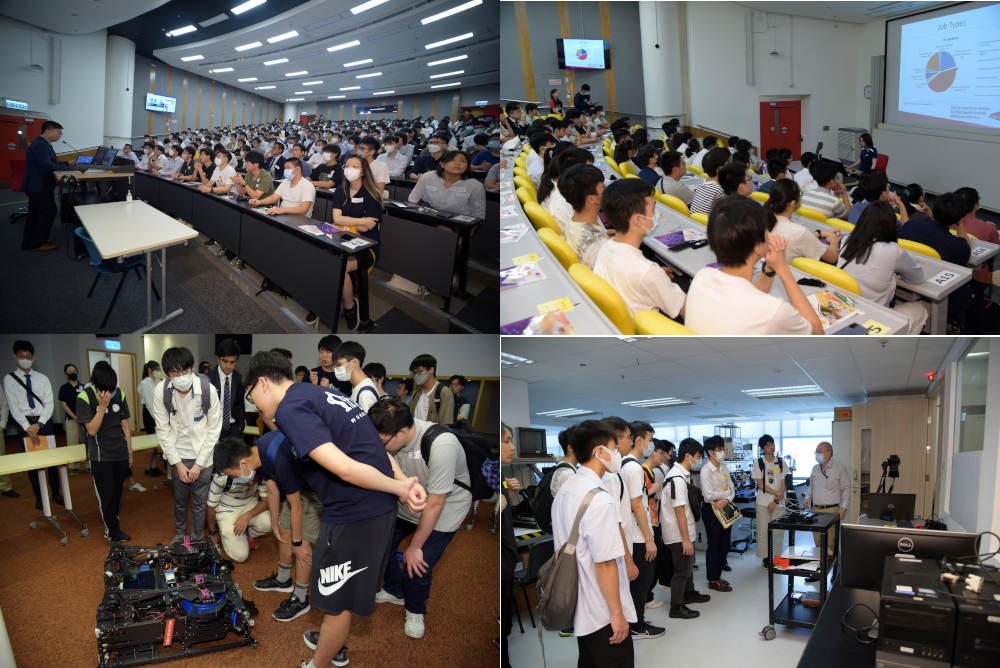 CityU JUPAS Consultation Day 2023
CityU JUPAS Consultation Day was held on 20 May 2023. EE faculty and student ambassadors were there to share with high school students and DSE candidates what is Electrical Engineering, how Electrical Engineering shaping the world, the learning exposures offered by the Department, and the career outlook of the discipline.
A programme talk was also delivered by Dr Ray Cheung (Associate Professor) to advise programme highlights and the promising career prospects of EE graduates.

Coding, Cryptography and FinTech (CCF) Skills Education for Gifted Students
This 9-month programme teaches high-school students essential knowledge and skills related to cryptography and FinTech, covering major topics such as blockchain, smart contracts and digital assets. Relevant foundation mathematics will be introduced and coding tasks are offered wherever appropriate.
Target: 40 students (Secondary 3-5 in the 2022/23 School Year)
Programme Delivery Period : May 2023 – January 2024
Please find more detail of the programme HERE.
Admission Interview and Information Session 2023 for Local Direct Applicants
Four sessions of admission interviews and information sessions were arranged for prospective local non-JUPAS (direct) applicants by Department of Electrical Engineering. The early round admission interviews has been conducted in December 2022 and the main round from February to March 2023. About 263 students mainly from UOW College Hong Kong (the former Community College of CityU), HKU Space Community College, PolyU HK Community College, and Vocational Training Council participated. The Admission Tutors Dr Leanne Chan and Dr Katie Chan introduced to the students about the department, her programmes, and admission information; while our current EE students were so enthusiastic to share their University life and various learning experiences with the participants. Group interviews were conducted on the days.