Gifted Education Fund: AIoT Coding and Engineering Skills Education for Gifted Students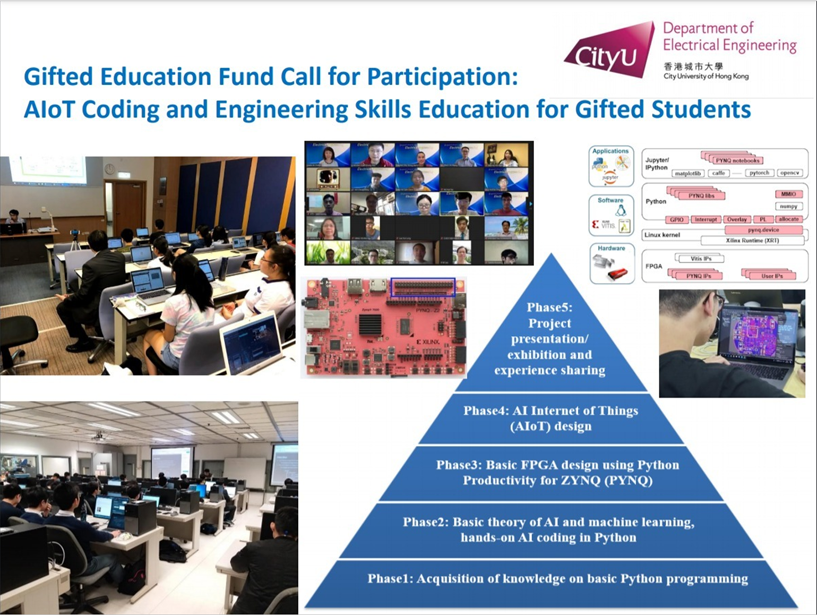 Introduction
The AIoT Coding and Engineering Skills Education for Gifted Students programme aims to equip the gifted students with knowledge and hands-on problem solving, coding, engineering abilities in AI and IoT, including math knowledge, software and hardware programming skills, and engineering skills.
We hope that via this programme, students can gain experience in AI programming, IoT device development cycle, especially hardware programming, such as FPGA, with applications to AIoT, and with the aids of university mentors.
Programme objectives
To develop gifted students' mathematical foundation knowledge with applications to AI domain;
To develop engineering skills and experience to develop IoT devices;
To develop gifted students' hands on coding abilities and problem-solving skills to carry out AI projects, especially developing their own AI model, and have the ability to evaluate the quality of AI model;
To develop hardware engineering skills to design and to evaluate IoT devices;
To inspire gifted students about the role and computation of system on chip (SoC) and Integrated Circuit (IC) in AI.
To develop gifted students' awareness of the applications of AIoT in daily life and encourage them to explore more of its applications to solve their own problems.
Timeline
Date Time
Contents
22, 29 May and 5,12, 19, 26 Jun 2021(Sat)
10:00am – 12:00pm
Programme introduction and EE Guest Lectures 
3 Jul 2021 (Sat)
10:00am – 12:00pm
Getting familiar with the coding environment and Github
10 Jul 2021 (Sat)
10:00am – 12:00pm
Introduction to Python Programming 1
17 Jul 2021 (Sat)
10:00am – 12:00pm
Introduction to Python Programming 2
24 Jul 2021 (Sat)
10:00am – 12:00pm
Advanced Python Programming
31 Jul 2021 (Sat)
10:00am – 12:00pm
Introduction to Artificial Intelligence
7 Aug 2021 (Sat)
10:00am – 12:00pm

14 Aug 2021 (Sat)
10:00am – 12:00pm
Supervised Learning in Details

Introduction to the Fashion MNIST Dataset and Data Pre-processing
21 Aug 2021 (Sat)
10:00am – 12:00pm
Lab session1: Data Analysis and Pre-processing with Fashion MNIST Dataset

Lab session2: Image Recognition with Fashion MNIST Dataset using TensorFlow
28 Aug 2021 (Sat)
10:00am – 12:00pm
Convolutional Neural Network (CNN)
4 Sept 2021 (Sat)
10:00am – 12:00pm
Lab session: Improve Prediction Accuracy with CNN
11 Sept 2021 (Sat)
10:00am – 12:00pm
Overfitting and Regularizations
18 Sept 2021 (Sat)
10:00am – 12:00pm
Lab session: Avoid Overfitting and Further Improve Prediction Accuracy with Regularization Techniques
25 Sept 2021 (Sat)
10:00am – 12:00pm
Basic FPGA design using Python Productivity for ZYNQ (PYNQ) 1
2 Oct 2021 (Sat)
10:00am – 12:00pm
Basic FPGA design using Python Productivity for ZYNQ (PYNQ) 2
9 Oct 2021 (Sat)
10:00am – 12:00pm
Basic FPGA design using Python Productivity for ZYNQ (PYNQ) 3
16 Oct 2021 (Sat)
10:00am – 12:00pm
Basic FPGA design using Python Productivity for ZYNQ (PYNQ) 4
23 Oct 2021 (Sat)
10:00am – 12:00pm
Quantised Neural Network (QNN)
30 Oct 2021 (Sat)
10:00am – 12:00pm
Lab session: Implementing QNN on PYNQ Board
6 Nov 2021 (Sat)
10:00am – 12:00pm
AI Internet of Things (AIoT) design
13 Nov 2021 (Sat)
10:00am – 12:00pm
Lab session: Embedded System Design
20 Nov 2021 (Sat)
10:00am – 12:00pm
Mentorship meeting briefing session + first time meetup
27 Nov 2021 – Mid Jan 2022
Bi-weekly meeting with mentors from CityU EE
Mid Jan 2022
Students' projects exhibition and pitching/judging
Contact Information
Address: Department of Electrical Engineering
City University of Hong Kong
83 Tat Chee Avenue,
Phone: +(852) 3442-7740
Fax: +(852) 3442-0562
Email: eedept@cityu.edu.hk