Upcoming Events
EE Soft Skills Seminar (II) :Career path in Hong Kong and overseas
Speaker:
Mr. YIU Pong Lam, Sam, BEng in Computer Engineering, Master in Software Technology, Software Development Engineer in Amazon, Vancouver

Time: 2:00 PM ~ 3:00 PM

Format: Online via Zoom

Language: English
For registration and Zoom info, please click HERE.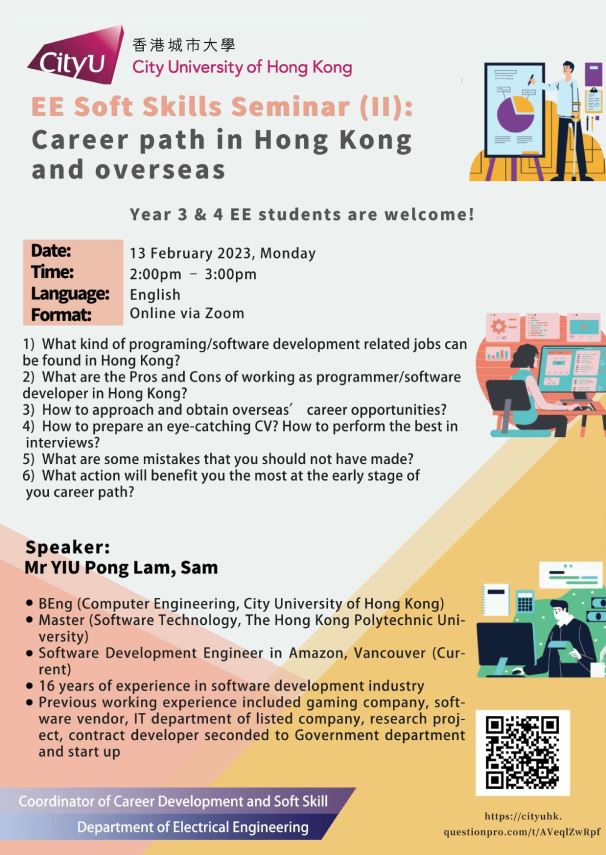 Upcoming Seminars
Speaker:
Dr Gengbo Wu, Post-Doctoral Research Fellow, State Key Laboratory of Terahertz and Millimeter Waves
Venue:
LT-5, Yeung Kin Man Academic Building, City University of Hong Kong
Past Events
創科博覽香港25周年科研成果展正在會展舉行,大家有空可來CityU EE攤位參觀
2022.12.12 - 12.22
香港會議展覽中心展覽廳3F-G
免費入場
用於6G或後6G通信的新型天線設計和技術
香港城市大學
項目負責部門及負責人:
陸貴文教授
香港城市大學電子工程學系講座教授
黃衡博士
電機工程學系副教授

榮獲獎項:
2011國家技術發明獎(二等獎)-項目名稱:多種新型天線的發明, 分析及應用研究
2017 IEEE天線與傳播學會約翰-克勞斯天線獎
2019何梁何利基金科學與技術進步獎-電子信息技術獎
詳情請參閱網頁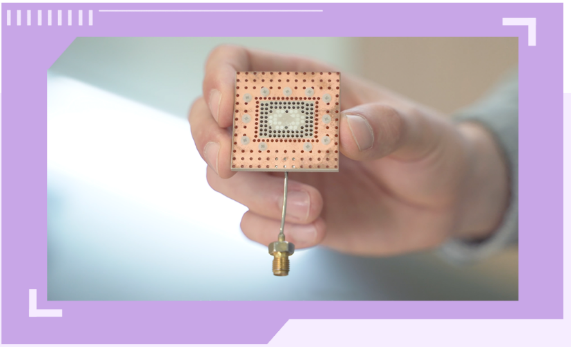 Prize Presentation for EE Programming Contest
To promote algorithmic thinking and programming among the EE community, a programming contest was held in Semester A 2022/23 for EE undergraduate students.
Winners may be selected to join the ACM-HK Programming Contest 2023. Prizes were presented to them by Dr Albert Sung and Mr Van Ting, Departmental Coordinator of ACM-ICPC Competition, on 20 December 2022. Congratulations to the following winners!
| | |
| --- | --- |
| Prizes | Name of Winners |
| Champion | KONG Ko Lun |
| 1st Runner-up | NG Chi To |
| 2nd Runner-up | LIU Handa |
| Certificate of Merit | HEO Junyeong, KWOK Man Hin Herbert , MOK Ching Wang |
| Certificate of Participant | CHAN Cheuk Fai, NG Wing Yin, SIU Siu Ting, TSOI Yiu Chik |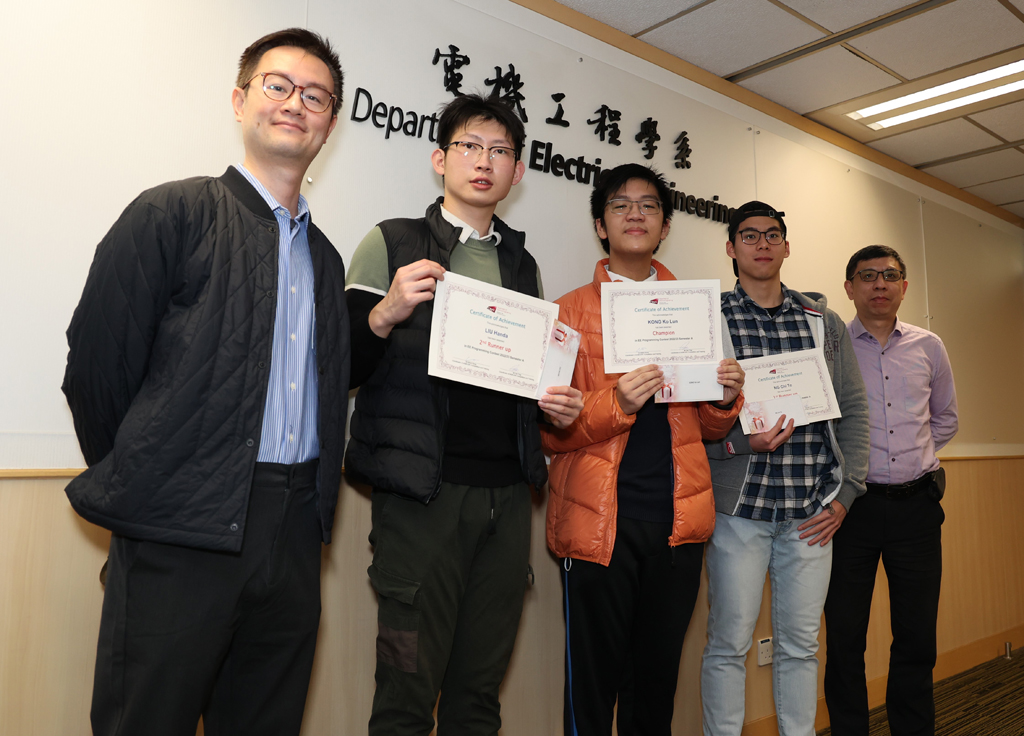 A group of EE students comprising Year-1 students, student mentors and student tutors had been to hiking at Tai Tam Reservoir on 18 December 2022 under the leadership of Mr Van Ting, Coordinator of Student Tutoring of the Department.
It was a fantastic time to meet with classmates and relax under the beauty of nature after the final examinations of Semester A 2022/23. This good physical exercise was rounded up with non-stop chit-chat and laughter.

EEHS Academic Workshop on Preparation for Postgraduate Applications in the United States
It is an honour and a privilege for EEHS to invited Prof. Stella Pang and Prof. Nelson Chan as guest speakers for our Academic Workshop on Preparation for Postgraduate Applications in the United State on 30 November 2022.
Both of the speakers had extensive academic and research experiences in renowned universities in the United States. They shared their valuable experiences and useful tips on document preparation, such as personal CV & Statement of Purpose (SOP), as well as other related information.

First EE Academic Staff Meeting in 2022/23
The first academic staff meeting among all EE faculty was held on 11 November 2022. The Chairman presented updates on the development of teaching and research of the Department.
Matters related to undergraduate and postgraduate studies and laboratory issues were also highlighted and discussed.

There are 11 EE colleagues received the University Long Service Award 2021 on 7 November 2022. To maintain social distancing, a simple presentation ceremony was held to delivery award to those who have served the Department for 10 years to 35 years, including faculty members, technical staff and administrative staff.
Their dedication and professionalism are one of the most important factors to our achievements and successes. Our heartfelt thanks to all of them!
Long Servicing EE Staff 2022
Dr Chan Lai Hang Leanne
Prof Stella Pang
Ms Szeto Man Ki
Prof Chan Sze Chun
Prof Dai Lin
Ms Mok Wing Chi

Mr Ting Chi Wang
Dr Chim Hung
Dr Po Lai Man
Prof Pun Yue Bun Edwin
Dr Yuen Shiu Yin Kelvin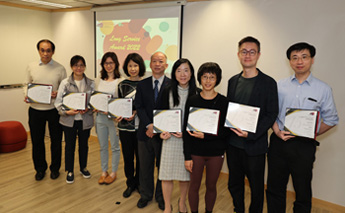 CityU Information Day 2022
CityU Information Day was successfully held on 22 Oct 2022. EE's sessions were held in hybrid mode introducing students and parents to the field of EE, the new major Microelectronics Engineering, and how our undergraduate programme prepares students for meaningful careers. It was exciting to meet our visitors face-to-face this year allowing more interaction and exchange with them.
Please access the recorded sharing of one of the main events below. The main event includes an Inspirational Talk, a Programme Talk and Experience Sharing from current students.
Video of EE Main Event: Please view here.
Web Platform of CityU Information Day 2022: Please check here.
 

Inspirational Talk "Electrical Engineering
or Not" by Dr Ray Cheung
 
Admission Talk by Dr Leanne Chan

 

Service Counter welcoming all visitors
 
Project Demonstration by
EE Student Ambassadors
Programme Information Session 2022 for Direct Applicants
Four Programme Information Sessions were arranged to prospective direct applicants (non-JUPAS) for the programmes offered by Department of Electrical Engineering (1205, 1573A, 1585A, 1597A, 1703A) between 12 and 28 October 2022. Students from UOW College Hong Kong, HKU Space Community College, PolyU HK Community College, and Vocational Training Council (Haking Wong & Shatin) attended.
In the Information Session, the Admission Tutor Dr Leanne Chan introduced to the students and teachers about the department and its programmes, admission information and the discipline prospects. In addition, sharing was done enthusiastically by our current EE students and alumni on their University life and different learning experiences.
Please refer to the video clip here.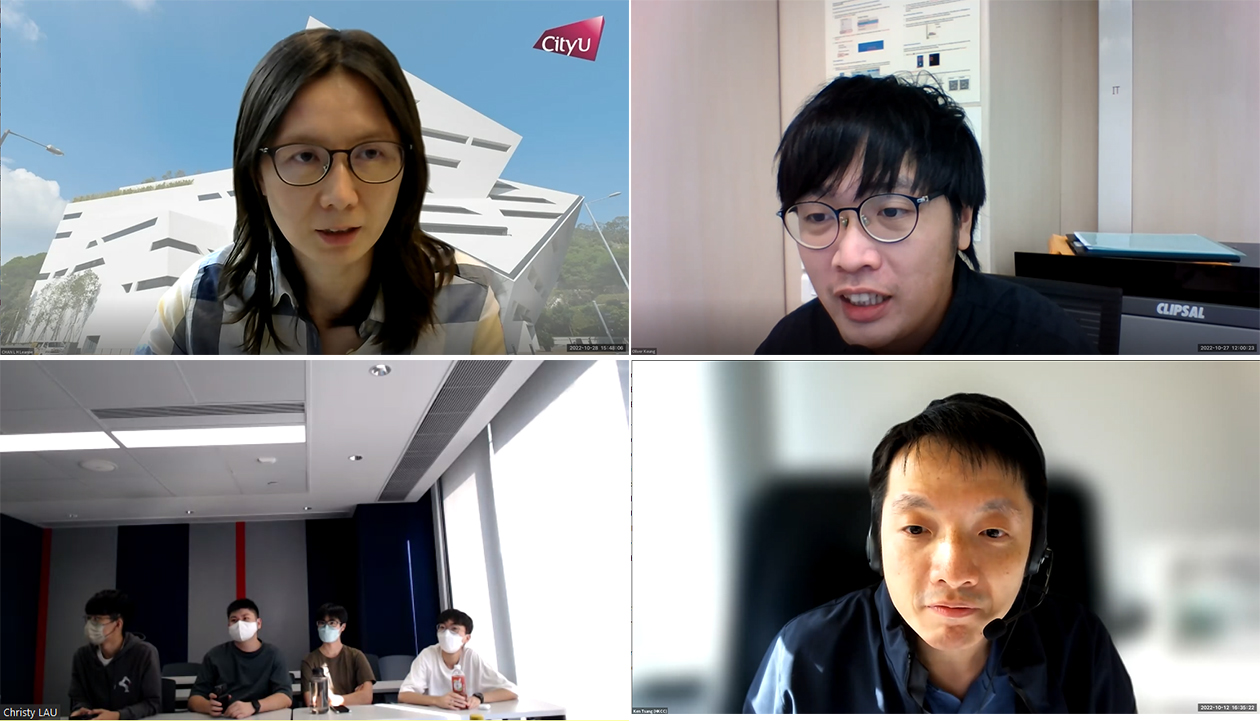 Briefing Session to Teaching Assistants
A briefing session hosted by Prof Arindam Basu was delivered on 30 September 2022 to PhD students who serve as Teaching Assistants (TA) for the Department in coming semesters.
It aims to outline scope of TA duties and expectation, departmental policy, and the needs of TA training during the PhD studies. PhD students with good TA performance were also invited to share with peers the good practices for carrying out TA duties.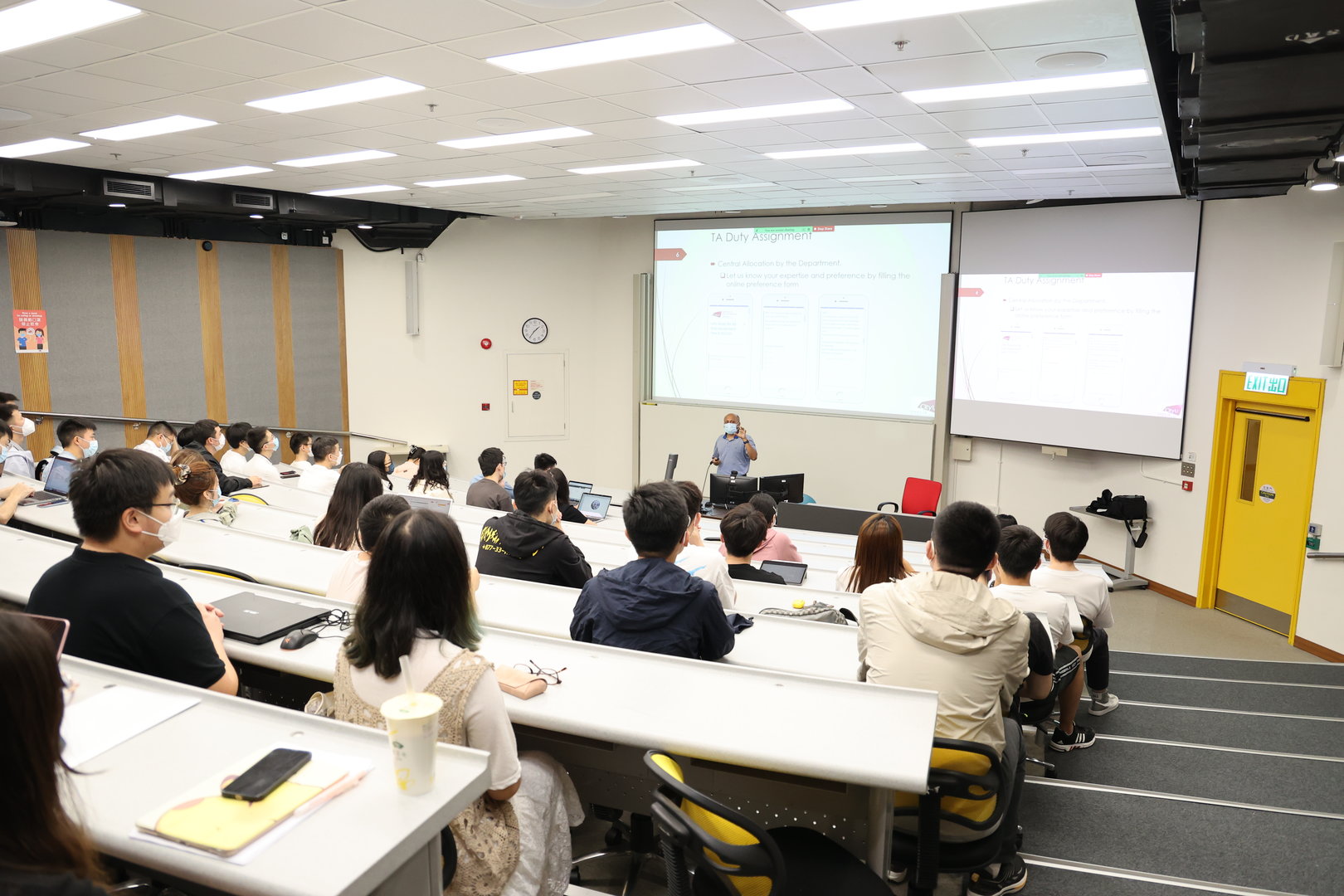 Career Journey Sharing Session And Interview Skills Roundtable Discussion
A career journey sharing session and interview skills roundtable discussion was held in mixed mode on 9 September 2022 to help students plan their career or job search and better prepare for job interviews. Over 30 students joined the session. It is our honor to invite five speakers from different disciplines in the industry to share their career stories. Each speaker, assisted by a student facilitator, hosted roundtable discussion in small groups of 5-6 students. Positive feedback were received, all the participants enjoyed the event, they found the information very useful and would recommend it to their friends.