The following gives a brief glimpse on upcoming and past professional-development-related activities at the department. We hope the multimedia from past events can help you know more about what we do to nurture students' professionalism apart from academic training.
EEHS 1st Mathematics Competition (Math Wiz)
The 1st Mathematics Competition (Math Wiz) organized by the Executive Committee of Electrical Engineering Honour Society (EEHS) was successfully held from 21st June 2020 to 28th June 2020.
This two-round competition involved three main topics which were Probability, Calculus (MA120X) and Linear Algebra (MA2001), and around 40 EE students participated in it.

In this competition, participants not only fully applied the knowledge they had learned in class, but also actively engaged themselves in it and had lots of fun. It is believed that the next competition would be even more exciting and challenging.

Congratulations to the final 10 winners of Math Wiz of the following EE students:

*** List of all winners ***
| Ranking | Name | Ranking | Name | Ranking | Name |
| --- | --- | --- | --- | --- | --- |
| 1 | HE, Houbo | 5 | ZHOU, Yujun | 9 | YANG, Tianxia |
| 2 | XU, Tianxiao | 6 | LI, Peixing | 10 | PATRA, Yuvraj |
| 3 | CHEN, Ruogu | 7 | GUPTA, Aarnav |   |   |
| 4 | CHENG, Feng | 8 | LI, Kam Hon |   |   |
They received cash coupons as prizes ranging from $250 to $1,150.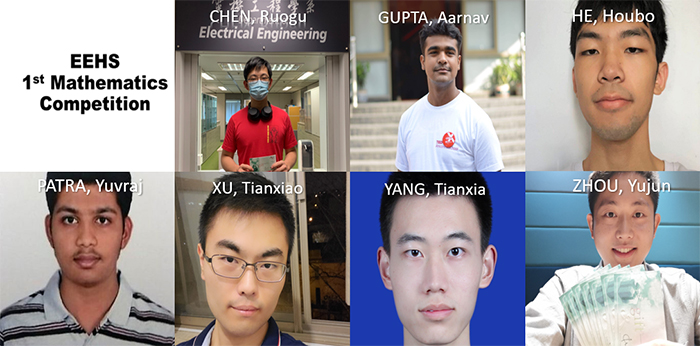 Some of the happy winners of EEHS 1st Mathematics Competition (Math Wiz)
The Final Year Project Competition cum Product Design Competition 2019
The Final Year Project Competition cum Product Design Competition 2019 was successfully held on 30 April 2019.
For Final Year Project (FYP) Competition, a total of 32 projects entered the semi-final which was a poster session. All semi-finalists were enthusiastic and professional in introducing their innovative and novel ideas in their project works. Six of them were immediately selected after the semi-final to compete in the final round held on the same day for Gold, Silver, Bronze and Merit Prizes.
As for Product Design (PD) Competition, there were a total of five teams participated and worked on the product titled "Remote-controlled Airship". There are Champion, Creativity, First Runner-up, Second Runner-up, and Merit Awards.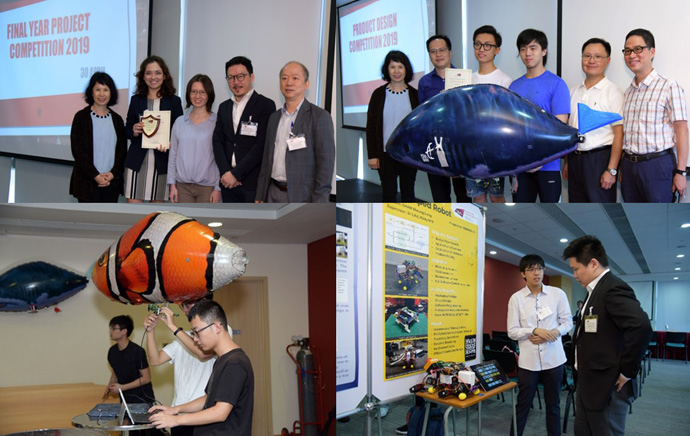 EE Quiz Competition 2019 (EE常識問答比賽), was successfully held on 22nd February 2019 at the EE Multidisciplinary Projects Laboratory, where 14 teams of EE undergraduate students competed with each other intensely by pressing the buzzer, answering the questions, and flipping up and down their score cards placed next to them.
Contestants and audience learned lots of common technology knowledge throughout the competition. It was an afternoon full of claps, cheers as well as a strong smell of nervousness mixed with excitement. The winners fully demonstrated their quick wit and strong determination. If you want to experience what it is like, you must join us the next year when this EE Quiz Competition is held again.