Donation of $1 million from Mrs Lam Chau Shun Yin to Support EE's Research Activities
Mrs Lam Chau Shun Yin, President of the Pong Yuen Holdings Ltd., a company that provides customized Internet of Things (IoT) solutions to various applications, pledged HK$1,000,000 to support research projects and activities of EE. The contribution from Mrs Lam greatly strengthens the research and innovation capacity of EE and more groundbreaking engineering solutions to global challenges are expected to come. In recognition of the generous support of Mrs Lam, a cheque presentation was held on 16 January 2020 at CityU. The presentation was officiated by our Department Head, Prof Stella Pang. Some other faculty members including Prof C H Chan, Prof K M Luk and Prof Michael Tse had joined to represent the Department to register vote of thanks to Mrs Lam. Visit to State Key Laboratory of Terahertz and Millimeter Waves was also arranged for a glimpse of the research environment of EE.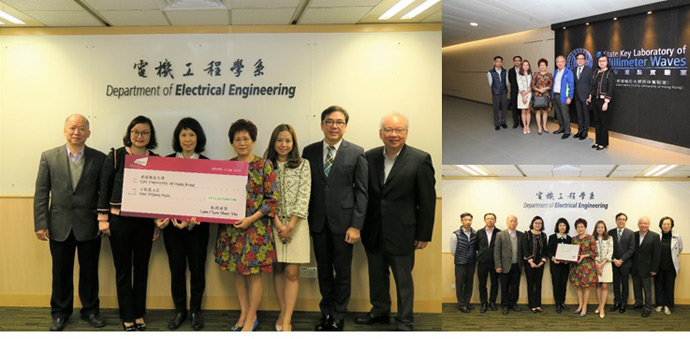 Donations of HK$200,000 to Support EE Summer Exchange Programme 2019 and Student Activities
Three donors namely The Hong Kong Fujian Charitable Education Fund, Tan Siu Lin Foundation and Toushi Group pledged a total of HK$200,000 to support EE Summer Exchange Programme 2019 and other EE student activities. With this generous support, the Summer Exchange Programme has made great impact on widening the international horizon of EE students. The incoming students through the same programme and the high school students joining the affiliated taster programme had also experienced a great learning here and tremendously benefited. Representatives of donors were invited to join the closing ceremony of the programme to celebrate the successful run of the programme and the achievement of the students.
Mr Chi Shing TSUI
The Hong Kong Fujian Charitable Education Fund

Mr Henry CHUI2
Toushi Group
Donation from Department Advisory Committee Members Supporting EE Students' Whole-person Development and Project Works
Departmental Advisory Committee Members supported EE in various ways. They actively provide constructive advices to steer the direction and development of the Department. They spare their valuable time to come over to the campus to share their inspiring views and experiences to our students and professors. They also connect us to various industrial partners fostering academic-industry collaboration. Their tremendous contribution named here are not exhaustive. One more example is supporting our students' development through scholarships.
Dr Brian Li, Executive Vice President of Gold Peak Industries (Holdings) Limited, pledged HK$100,000 to set up a scholarship encouraging students to pursue academic excellence and whole-person development.
Mr Jansun Lai, Managing Director of VeServe Company Limited, donated HK$4,200 to award students who achieve outstanding performance on project-based courses.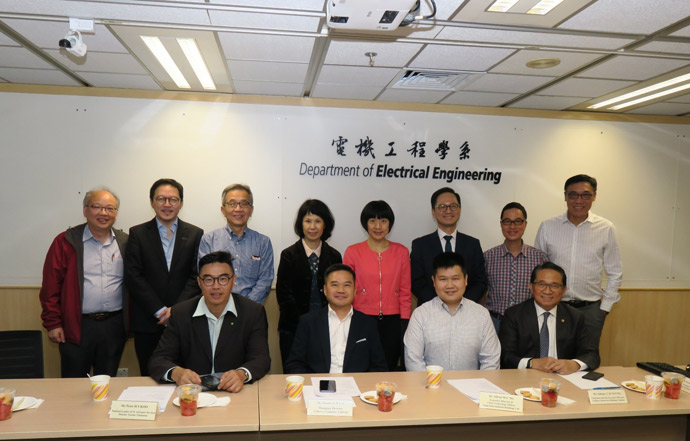 Group photo of Departmental Advisory Committee Members
Second row, the third one from the right: Dr Brian Li; Front row, the second one from the left: Mr Jansun Lai