Launch of Energy-saving Invention "Smart Thermostat"
Our research team comprising Prof Henry Chung and two PhD students, Mr Lai Chun Tak and Mr Cheung Yeung Shun, as well as professor and researcher from the Division of Building Science and Technology has developed a smart thermostat for central air-conditioning systems which has been successfully launched onto the market with three patents having been filed. The new invention can help save more than 10% on power and improve indoor comfort levels. Such achievement also aligns with the objectives of the "Energy Saving Plan for Hong Kong's Built Environment 2015~2025+" as mentioned in the latest policy address of the HKSAR government. A press conference was held on 17 October 2017 to introduce this energy and cost saving thermostat to the public.
CityU News Centre: http://wikisites.cityu.edu.hk/sites/newscentre/en/Pages/201710171350.aspx
News reports in: AM730, Ming Pao, Sing Pao, Sing Tao Daily, Ta Kung Pao, Wen Wei Po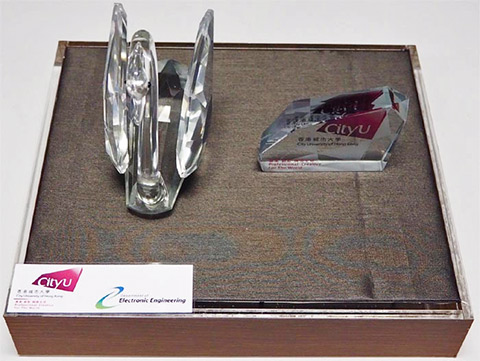 Beautiful Glass Swan Antenna to Dr Yeung Kin-man, JP
Have you ever imagined a nice ornament at home could function powerfully as an antenna for wireless communications? This first-class research, being one of the masterpieces of Prof Ben Leung Kwok-wa, EE Chair Professor, was publicized earlier and demonstration of which has attracted acclaim from industry. The glass swan was recently given by CityU to Dr Yeung Kin-man, JP, Founder and Chief Executive of Biel Crystal (HK) Manufactory Limited as a birthday gift. In appreciation of the staunch support and generous donations given by Dr Yeung for the University and students, CityU has named Academic 1 "Yeung Kin Man Academic Building" earlier this April.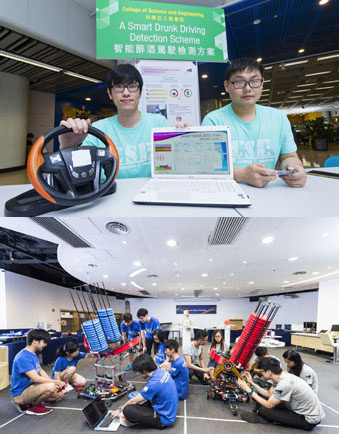 EE Projects Addressing Real-life Problems were showcased at Discovery and Innovation Gala 2017
The College of Science and Engineering Discovery and Innovation Gala 2017 was successfully held on 21 and 22 June 2017, where a total of 20 EE projects addressing real-life problems were showcased to the CityU community and the public. The innovative projects were the collective work of EE faculty members, research staff, postgraduate students and undergraduate students. The Featured Project "A Smart Drunk Driving Detection Scheme" has attracted the media coverage and the news reports can be found at Ming Pao, Oriental Daily, Sing Pao, Wen Wei Po and AM730.