CityU EE Joint Lab Microsoft Training
CityU EE Joint Lab organized a 2-day training session for CityU Students.
Microsoft HK partners with CityU Joint Lab provided a 2-day training session "AI-900 Microsoft Azure AI Fundamentals" to EE students. This course introduced fundamentals concepts related to AI, and the services in Microsoft Azure that could be used to create AI solutions.
Date: 17 -18 June 2021
Time: 2:00pm to 5:00pm (6 hours in total)
Course outline: https://docs.microsoft.com/en-us/learn/certifications/courses/ai-900t00
Quota: 80 (first-come-first-served)
EE Honor Society MCM Workshops and Mock Contest
Electrical Engineering Honor Society (EEHS) organized MCM Workshops and Mock Contest for Year 1-3 Students.
The contest attracted diverse students and faculty advisors from over 900 institutions around the world.
Deadline for registration: 2 Jun 2021
Online workshops: 17 -19 May 2021
Mock contest: 3 – 7 Jun 2021

Link to the poster
Research Student Symposium 2021
Research Student Symposium was held on 4 June 2021. All research students and research staff were invited to submit poster and a total of 46 submissions were received to join this annual event. Best Paper Awards were set up to recognize outstanding papers according to five research areas.
Invited EE faculty members were judges to assess and comment the research works of participants. Participants enjoyed the interactions with faculty members and the chance to know more about what other research students are doing. The day rounded off with invaluable exchanges and conversations.

Please see here for the details.
CityU EE Tech Tour 2021 was held on 4 June 2021. 4 EE faculty members together with 48 EE Undergraduate, Master and PhD students visited the Hong Kong Science and Technology Park to explore "Technology Trends and Opportunities in Hong Kong". The students also met up with EE Alumni in the startup community, and visited research centers including ASTRI and LSCM.
This tour was designed based on "play and learn" educational theory. By merging the visit to high tech companies with group project, competition and presentation, all the students found this tour very inspiring and eye-opening! 8 EE student winners include: He Houbo, Li jiaxing, Cai Mau Yin, Yupei Zhang, Alvi Rahman, Zhao yangyang, Wang Zhenzheng, Yuvraj Patra, Abdurrashid Sanka, Yan Boxun and Hon Shing Hei.

Video
 

EE Tech Tour 2021 Sharing from Ms Jojo Cheung
(Chief Marketing Officer of HKSTP)
 
EE Tech Tour 2021 Sharing from Ms Pauline Ko
(Associate Director of HKSTP)

 

EE Tech Tour 2021 Sharing from Mr Edward Chan
(Associate Director of HKSTP)
 
EE Tech Tour 2021 Sharing from Chun and Tommy
(EE Alumni in HKSTP)

 

EE Tech Tour 2021 Sharing from Mr Jimmy Tao
(CEO of Vitargent)
 
EE Tech Tour 2021 Sharing from Mr Jack Wong
(Director of Zetakey)

 
 
EE Tech Tour 2021 Sharing from Mr John Tang
(Founder of CityImage)
 
 
Commencement 2021 – EE Sessions
We are proud to present our graduates of 2021 at Commencement of EE Sessions held on 28 May 2021. About 400 graduates, their parents and EE professors attended the ceremony to share the joyful and exciting moment together.
Apart from individual presentation on our graduates, there was prize presentation to recognize the excellent teaching of our professors. The big day ended joyfully by group photo taking among graduates and EE professors in the hall as well as at different campus photo-taking shots with fascinating backdrops set up by the University.

AWS is delivering a Smart City training through introducing what you should know about Smart City with AWS IoT architecture and illustration of several business use cases on Smart City.
EE Student Tutoring Scheme - Presentation of Awards
EE Student Tutoring Scheme is a long established learning support activity offering to EE undergraduate students. Study groups on course-based, led by senior students (student tutors) with good academic performance, are formed serving as a platform for providing academic support to peers (tutees).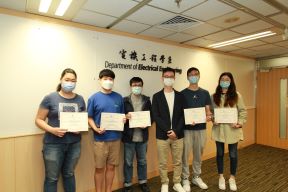 Students discuss problems and solve questions together during the weekly meeting throughout the semester. Apart from discussing academic matters, students also share and exchange their general experiences on personal development during university studies with their group mates at the meet-up.
To encourage active participation to the Scheme and to recognize outstanding performance of student tutors and tutees, Significant Improvement Award, Excellent Performance Award and Best Student Tutor Award are established. A prize presentation was held on 28 April 2021 to celebrate their achievement. Please check here for the list of award recipients. Congratulations!
Postgraduate Seminar: My Stories of Conducting Research as an Early-career Researcher
Dr Wang Cheng, Assistant Professor of EE, delivered a seminar titled "My Stories of Conducting Research as an Early-career Researcher" in mixed mode to all postgraduate students on 26 April 2021.
During the seminar, Dr Wang shared with students some his stories on research career development, in particular during his PhD years. His genuine sharing of facing ups and downs provided insights to students on how to plan for PhD study and how to conduct good and solid research work. The session rounded up with active discussion and full of encouragement.
EE Final Year Project Competition 2021
The Final Year Project (FYP) Competition was successfully held on 26 April 2021. A total of 32 projects entered the semi-final which was a poster session. All semi-finalists were enthusiastic and professional in introducing their innovative and novel ideas in their project works. Six of them were immediately selected after the semi-final to compete in the final round held on the same day for Gold, Silver, Bronze, and Merit prizes! This year, we got four new prizes in "Honorary Mention" to encourage more good performers!
The judging team for final presentation was composed of three faculty members and three guests from the industry who had donated all the cash prizes for this competition.

Please see here for competition details.
With the lead of two EE faculty, Dr Sammy Chan and Mr Van Ting, a small group of EE students comprising Year-1 students, student mentors and student tutors had been to hiking on 25 April 2021, a time to chill out and relax before gearing up for attempting final examination.
They hiked from Lion Rock Country Park, climbed up to Amah Rock and finished this good exercise at Hung Mui Kuk. When situation allows, Department is ready to organize more this kind of get-together with EE students in all levels for networking and exchange.