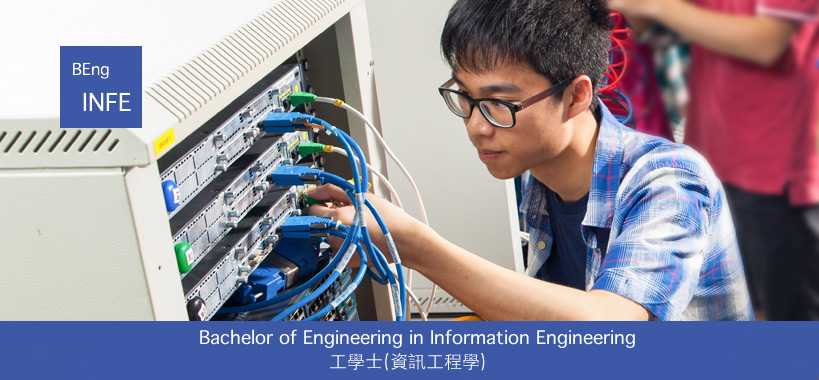 Aim
Major Aim
This major aims to equip students a balanced understanding of the theory and applications of information engineering, which encompasses networking and communications, algorithms and optimization, cybersecurity, artificial intelligence, and signal processing. It offers all-round education, which nurtures independent thinking, creativity, and various soft skills. Upon completion of the major, graduates will be sufficiently prepared for further studies or employment in a wide range of economic sectors, mainly technology, but also business, banking, finance and trading in Hong Kong and the Asia-Pacific region.
資訊工程學工學士課程目標:培育專業資訊工程師,教授電腦及資訊科技知識,重點有網絡及通訊、算法及優化、網絡安全、人工智能、及訊號處理。
Major Educational Objectives
The Major Educational Objectives of INFE major are to:
Provide graduates with a solid education in information engineering, and tools that will enable them to identify and solve related engineering problems.
Provide graduates with the ability and vision that will enable them to become life-long learners in today's rapidly changing world.
Provide graduates with strong knowledge base on which they can pursue further studies.
Provide graduates with essential skills to communicate effectively, and work independently but also collaboratively in multi-disciplinary teams.
Equip graduates with high standards of ethics and conduct as well as societal responsibilities.
Career Prospect
Information Technology is amongst the areas that the Hong Kong SAR Government has identified for focused support, with manpower projections showing this technology sector to have the fastest growth. Even in the banking, finance, business services, trading, legal and public administration sectors, personnel with a solid background in technology are in great demand in this increasingly complex technological age.
Our Graduates
Premier Employers
Government/ Government-related Organizations: Police, Rating and Valuation, Customs and Excise Department, and Hospital Authority
Engineering/ Technology: Science Park, Argent Software, IBM, Epson, HP, Mitsubishi, Hitachi, Reuters, SAE Magnetics, NEC, New World Telecom, Elec & Eltek International, EXEL HK, China Unicom, Cosco (HK)
Finance/ Banking/ Property: HSBC, DBS, Dah Sing Bank, Hang Seng Bank, Wing Lung Bank, Hong Yip Service
Transportation and Logistics: OOCL Logistics, Cathay Pacific, Airport

Job Nature of Graduates
Computer/ Design Engineer, Technical Support Engineer/ Specialist, Telecommunication Engineer, Software/ System Engineer, Programmer, Application/ Mobile Apps Developer, System/ IT Support Analyst, Cloud Computing/ Data Center Engineer, IT Officer, Scientific Consultant/ Technologist, Academic Researcher, Solution Developer, Marketing and Sales Executive, etc.

Graduate Employment Survey 2022
The survey shows that 92.50% of the BEngIE graduates were engaged before the cut-off date, with 82.50% in the job market and 10% in full-time postgraduate studies. Click here for details.
Professional Recognition
The major has been accredited by the Hong Kong Institution of Engineers, oone of the educational requirements for obtaining Charter status. Based on the 'Washington Accord', graduates will receive reciprocal recognition from the equivalent bodies in Australia, Canada, China, Chinese Taipei, Costa Rica, Hong Kong-China, India, Indonesia, Ireland, Japan, Korea, Malaysia, Mexico, New Zealand, Pakistan, Peru, Russia, Singapore, South Africa, Sri Lanka, Turkey, the United Kingdom and the United States.
Last Updated : 22 Sep 2023