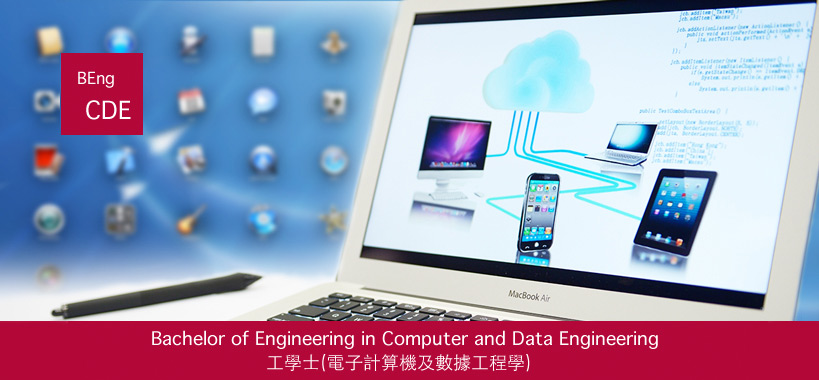 Aim
Major Aim
We aim to provide students with a strong foundation and broad skill in the core and related computer and data analysis technologies. Students will be equipped with the knowledge in both theoretical and practical aspects of computer systems. The curriculum encompasses hardware and software design, multimedia technologies, data analytics and security, cloud computing systems, machine learning, and artificial intelligence. Upon completion of the major, students will be sufficiently prepared for employment, and to pursue postgraduate studies and engage in life-long learning.
電子計算機及數據工程學:培育專業電腦及數據工程師。教授電腦及數據技術,重點有電腦硬件及軟件設計、多媒體科技、數據分析及安全、雲端運算系統、機器學習,人工智能等。
Major Educational Objectives
The Major Educational Objectives of CDE major are to:
Provide graduates with a solid education in computer engineering and data engineering, and tools that will enable them to identify and solve related engineering problems.
Provide graduates with the ability and vision that will enable them to become independent life‐long learners in nowadays rapidly changing knowledge-based economy.
Provide graduates with a solid educational foundation on which they can pursue postgraduate studies in related engineering or their chosen field of interest.
Provide graduates with the basic skills to communicate and lead effectively and be able to work independently but also collaboratively in multi-disciplinary teams.
Provide graduates with a broad-based education that will prepare them to work with high standards of ethical conduct and societal responsibilities.
Career Prospect
Given the rapid developments in computer technology and multimedia applications, graduates will find ample opportunities in IT products and services, and Data services. Potential employers include computer product development companies, software and system solutions companies, banks, finance and insurance companies and the Hong Kong SAR Government.
Our Graduates
Premier Employers (The CDE major curriculum was first rolled out in 2016. The following employment survey results were based on Computer Engineering graduates of recent years.)

Government/ Government-related Organizations: Police, Rating and Valuation, Customs and Excise Department, and Hospital Authority
Engineering/ Technology: Science Park, Argent Software, IBM, Epson, HP, Mitsubishi, Hitachi, Fujitsu, Reuters, SAE Magnetics, NEC, CSL, Elec & Eltek International,Jetco, China Unicom, Cosco (HK)
Finance/ Banking/ Property: HSBC, DBS, Dah Sing Bank, Hang Seng Bank, Wing Lung Bank, Jardine OneSolution, Bank of East Asia, Deloitte, Hong Yip Service
Transportation and Logistics: OOCL Logistics, Cathay Pacific, Airport


Job Nature of Graduates
Computer/ Design Engineer, Technical Support Engineer / Specialist, Telecommunication Engineer, Software/ System Engineer, Programmer, Application / Mobile Apps Developer, System / IT Support Analyst, Cloud Computing/ Data Center Engineer, IT Officer, Scientific Consultant / Technologist, Academic Researcher, Solution Developer, Marketing and Sales Executive, etc.

Graduate Employment Survey 2022
The survey shows that 92.45% of the CE graduates were engaged before the cut-off date, with 81.13% in the job market and 11.32% in full-time postgraduate studies. Click here for details.
Professional Recognition
The major has been accredited by the Hong Kong Institution of Engineers, one of the educational requirements for obtaining Charter status. Based on the Washington Accord, graduates will receive reciprocal recognition from equivalent bodies in Australia, Canada, China, Chinese Taipei, Costa Rica, Hong Kong-China, India, Indonesia, Ireland, Japan, Korea, Malaysia, Mexico, New Zealand, Pakistan, Peru, Russia, Singapore, South Africa, Sri Lanka, Turkey, the United Kingdom and the United States.
Last Updated : 25 September 2023