Upcoming Events
Hong Kong PhD Fellowship Scheme (HKPFS) - CityU EE Virtual Workshop 2022
The Department is organizing a PhD recruitment virtual workshop to promote our PhD program to interested students. It aims at matching excellent candidates to suitable PhD supervisors in EE and prepare them to compete for the HKPFS later this year.
Date: 29 July 2022
Time: 9:30 AM – 5:00 PM
Venue: By Zoom
Language: English
Registration: Download application form HERE and send the completed form to eepostgrad@cityu.edu.hk
Application Deadline: 15 July 2022
(JS1205) Programme Information Session and Interviews for JUPAS Applicants 2022 by CityU-Electrical Engineering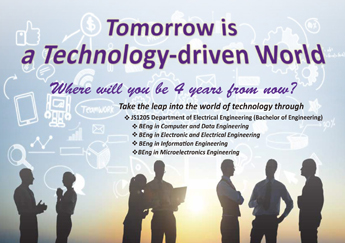 CityU EE will hold an online Zoom Programme Information Session and Interviews for JUPAS Applicants. Students will join an information session to know about the programme, meet with our Admission Tutors and professors, receive first-hand sharing from current students, and get a chance to ask us questions.
Date: 8 July 2022 (Friday)
Time: 2:00pm – 5:00pm
Delivery mode: By Zoom
Details and registration (here)
Past Events
Media Briefing for Microelectronics Engineering New Major
With the rising demand of new microelectronic technologies as needed in telecommunication, smart home, Internet of Things, biomedical equipment, etc, EE Department aspires to nurture innovative leading IC engineers for Hong Kong, China, and global market. A new major in Microelectronics Engineering will start its admission for 2022. A media briefing was held on 22 June 2022 to introduce the current related market trend, major curriculum and career path of these highly-sought-after microelectronics engineers.
Prof Stella Pang (Head of EE Department); Prof Henry Chung and Dr Alex Wong briefed to the media friends about the new major, its objectives and curriculum, promising career path of graduates, and the co-curricular opportunities during student studies. Ir Dr H L Yiu, Head of Reindustrialization, Hong Kong Science and Technology Parks Corporation shared about the HK government's staunch support in re-industrialization of Hong Kong; global, regional and local market in IC design and development; role of industry in support of the market; and the high demand of professional engineers in the microelectronics engineering discipline.
The major provides students sound knowledge of the fundamental principles involved in the design and fabrication of integrated circuits (ICs), and a comprehensive understanding of electronics and information technologies. The curriculum includes application specific IC (ASIC) design for novel applications, nanotechnologies for high-performance devices and microsystems, and new designs and materials for ICs.

Related News: Topick (HKET), am730, on.cc, 香港商台, SingTao Daily, East Oriental, Sky Post
Second Farewell Get-together for Three Technical Colleagues
The second farewell get-together was held on 22 June 2022 to recognize three technical staff - Mr K P Chan, Mr S Y Ng, and Mr Stephen Wong who retired after 30 June 2022 for their significant contributions to the department and the university, and shared together all memorable moments. They have served the Department for 32 years.
Over 50 colleagues participated in the event to render their warm wishes and recalled together many good memories. The event ended in wholesome laughter and heartwarming greetings. We wish them all the best in their new page of life after their retirement.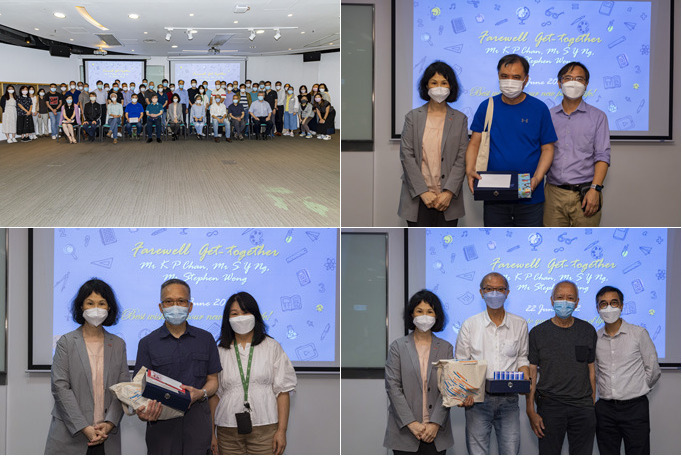 EE staff retreat is an annual event gathering all academic and teaching staff for discussing departmental strategic areas identified for development.
This year, 40 staff attended the retreat held at the Hong Kong Disneyland Resort on 17 June 2022. Group discussions on topics 'Opportunities and Teams Identification for Large Collaborative Projects' and 'Faculty Recruitment – Focused Areas and Approaches' have led to various implementation plans for action.

CityU EE Joint Lab Metaverse Career Fair 2022
Since CityU EE Joint Lab's establishment in 2019, the CityU EE Joint Lab Programme has connected with a total of 28 CityU EE Joint Lab Partners. A series of cooperative and technical projects have been/will be launched with these partners. In order to support our partners for their talent acquisition, CityU EE organized the first metaverse career fair on 2nd June, 2022, 2:30-4:30pm.
The Virtual Career Fair was held on the Gather platform, a virtual scene that has delegated booths and zones for 8 CityU EE Joint Lab Partners to meet our EE students. Partners including ASTRI, Fujiflim, GP, LSCM, HKPC, Sengital, SmarTone and Suga joined this event. Around 50 people were in the Gather platform and each company had 12-15 interviews in this career fair.

Admission Interview and Information Session 2022 for Local Direct Applicants
Eight sessions of admission interviews and information sessions were arranged for prospective local non-JUPAS (direct) applicants by Department of Electrical Engineering. The early round admission interviews have been conducted between Dec 2021 and March 2022 and the main round from April to June 2022. About 267 students mainly from UOW College Hong Kong (the former Community College of CityU), HKU Space Community College, PolyU HK Community College, and Vocational Training Council participated. The Admission Tutors Dr Leanne Chan and Dr Alex Wong introduced to the students about the department, her programmes, and admission information; while our current EE students were so enthusiastic to share their University life and various learning experiences with the participants. Group interviews were conducted on the days.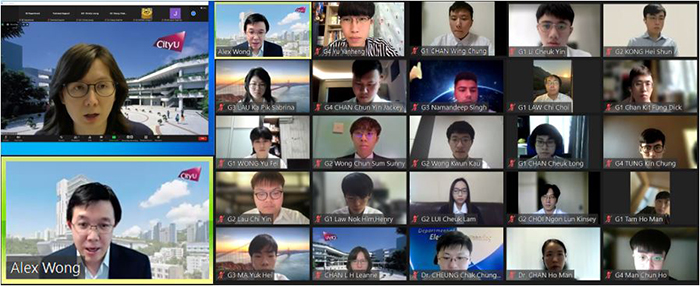 To celebrate the achievements of our alumni/ individuals in their career, and/ or servicing CityU EE community, or our society; EE is going to launch our exciting 2nd EE Annual Awards!
Nomination Period: 1 February 2022 – 31 May 2022
Please find more detail of the EE Annual Awards HERE.
Simulated Interview and Career Preparation Workshops
With the support from the Career and Leadership Centre (CLC), a Simulated Interview and Career Preparation Workshop was held over Zoom on 31 May 2022 for enhancing EE students' skills on polishing their CVs and ace the job interview.
Participating students had to prepare their CVs for seeking consultation from career advisors of CLC. They were also divided into small groups of 4 – 5 students to have mock interviews, peer evaluation and debriefing under the coaching of CLC's career advisors.
Farewell Get-together for Three Long-serving Colleagues
It is with considerable reluctance that the Department is bidding farewell to three long-serving colleagues, Dr Peter Tsang, Associate Professor; Mrs Sandy Cheung and Ms Candy Leung, Clerical Officers I. They have served the Department for 36, 30, and 15 years respectively.

A farewell get-together was held on 30 May 2022 to register department's votes of thanks.
Some 60 colleagues participated in the event to render their warm wishes and recalled together many good memories. The event ended in wholesome laughter and heartwarming greetings.
City-EE is always open for EE friends to come back and visit us! Our best wishes to Peter, Sandy, and Candy for their new move in life! All the best!

AIoT Coding, Engineering and Entrepreneurial (AIoT CE2 ) Skills Education for Gifted Students
We are pleased to announce that the new EDB Gifted Education Fund Project has been announced. It is time to encourage our Hong Kong Elite students to apply for these 40 positions from CityU-EE Department. For more details here. Thank you very much.
2021-07 為資優學生提供的AIoT編程、工程及創業培訓計劃
名額及在2021/22學年就讀年級: 40名學生(中四至中五)
申請截止日期: 27 May 2022
課程舉行日期
由2022年6月至2023年3月(10個月)(暫定)
更多資訊
Research Student Symposium 2022
Research Student Symposium was held on 19 May 2022. All research students and research staff were invited to submit poster and a total of 64 submissions were received. Selected EE faculty in the related research areas were invited to be judges for deciding winners of the Best Presentation Awards which were set up to recognize outstanding presenters according to five research areas.
Participants enjoyed the exchange with faculty members and the chance to know more about what other research students are doing. The day rounded off with invaluable conversations and encouragement.


Please see here for the details.