Novelty and Originality of Student Project Work Manifested in Final Year Project Competition 2018
The Final Year Project Competition 2018 was successfully held on 30 April 2018. A total of 30 projects entered semi-final of the competition which was a poster session. All semi-finalists were that enthusiastic and professional in introducing their innovative and novel ideas in their project works. Six of them were immediately selected after the semi-final to compete in the final round held on the same day.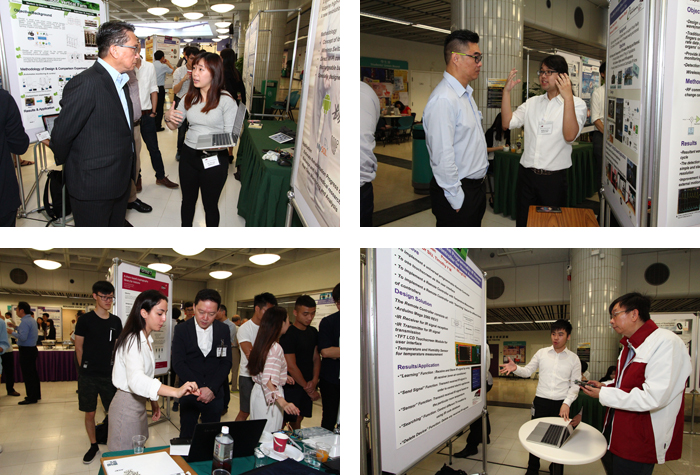 The judging team this year involve six guests from industry. They are:
Mr Thomas T Y CHEUNG, Chairman, Chinagrowth Group Limited;
Mr German CHOW, Director, Propagation Systems Limited;
Mr Peter KOO, National Leader of IT Advisory Services, Deloitte Touche Tohmatsu;
Mr Frederick MAK, Director, Xenon Electronics Limited;
Mr Kelvin TSE, APAC Technical Manager, RS Components Limited; and
Mr Johnny C H YEUNG, Chairman and the Executive Director, Fujikon Industrial Holdings Limited.
Together with our EE faculty who helped out as judges for semi-final or final rounds of the competition, they were all deeply impressed by the novelty and innovation in the student works as well as the excellent final presentations of students plus the Q & A.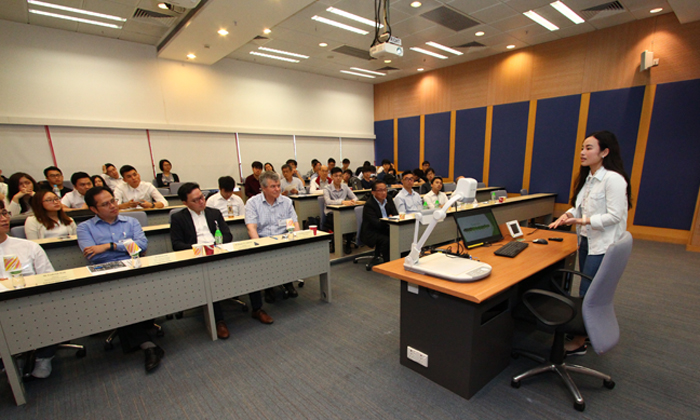 Winners of the FYP Competition 2018: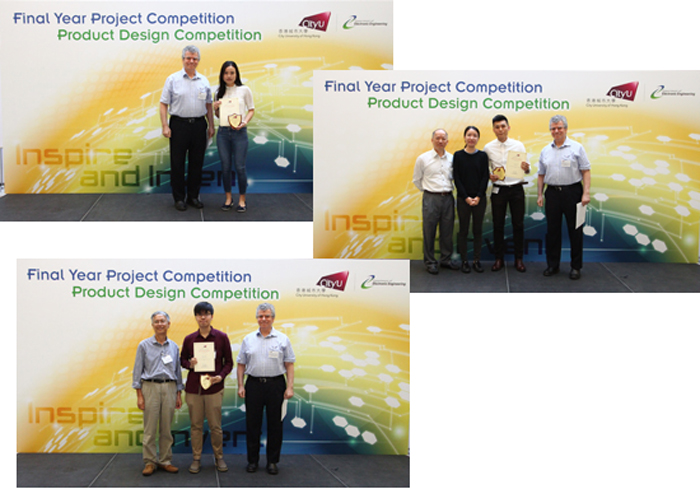 Gold Prize
Student Name: IP, Chui Lin
Programme-Major: BENG4-ECE
Supervisor: Dr WU, Angus
Project Title: Smart Indoor Vertical Farm

Silver Prize
Student Name: CHU, Ho Man Jason
Programme-Major: BENG4-ECE
Supervisor: Dr CHAN, Rosa
Project Title: Vertical Jump Height Prediction with Upper-limb Counter-movement, Pre-jump Knee-Flexion and Approaching Distance in Volleyball Players
Bronze Prize
Student Name: NG, Cheuk Hei
Programme-Major: BENG4-ECE
Supervisor: Dr LEUNG, S H
Project Title: Use Millimeter Waves to Sense Heart Rate
Merit Prize
Student Name: Ho, Wai San
Programme-Major: BENGU2-CDE
Supervisor: Dr SIU, Y M
Project Title: Universal Programmable IR Remote Controller for Home Automation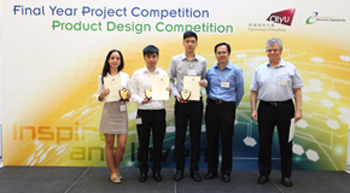 Student Name: LAU, Sze Chung
Programme-Major: BENG4-ECE
Supervisor: Dr Wong, Steve
Project Title: Smart Recycling Bin using IoT

Student Name: SANTOS-BUITRAGO, Marta Florencia
Programme-Major: EXGB
Supervisor: DR TANG, K S
Project Title: A Chao-based Crytography Libary for Arduino