Student Achievements 2017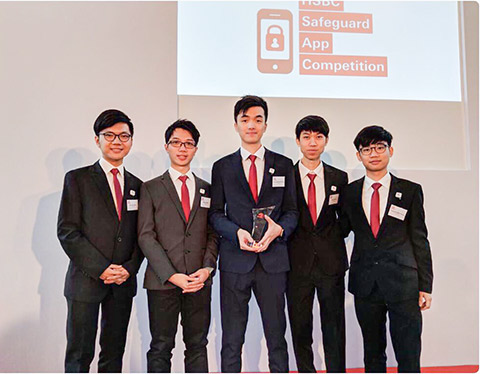 EE Students Being Winner of HSBC Safeguard App Competition
Mr WONG Yiu Ting (INFE, final year) and Mr CHAN Tin Nam (INFE, year 3), who teamed up with students from School of Creative Media and University of Hong Kong, have been the Winner of HSBC Safeguard App Competition. All the CityU students are members of CityU Apps Lab. The winning project, supervised by Dr Ray Cheung, is called "InstaSure" which provides an easy-to-navigate interface for retail users to monitor and maintain their bank account's security level. More about the project can be found from the demonstration video and the news release at HK 01 and Apple Daily.

The competition aims to mobilize talent in Hong Kong to develop app-based solutions that enable customers to meet banks' information requirements in more convenient and secure ways. The Winner has been given a cash prize of HK$100,000 as encouragement.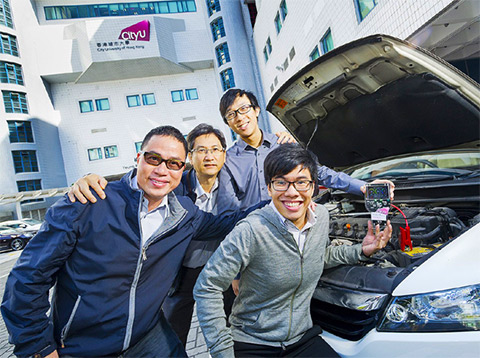 Smart System for Battery Monitoring Proved to be Time and Energy Saving
EE research team, comprising Prof Henry Chung, Dr Ricky Lau and two research students Mr Cheng Chun-sing and Mr Liu Chun-for, has successfully developed a smart real-time battery state and health diagnostics system for testing the state of a battery on a vehicle which proved to significantly reduce diagnosis time from hours to three minutes and save the loss of energy by 90%.

With the support and collaboration of the Electrical and Mechanical Services Department (EMSD), the team has successfully obtained Innovation and Technology Fund (ITF) to develop the system. The completed work has been tested on government vehicles and data centers of the government, and is now being considered for installing the system on government vehicles to further assess its battery monitoring performance. The system has been granted patent, and was developed into a handy and compact design with its business partner for launching to the market for wider use.
CityU News Centre: http://newscentre.cityu.edu.hk/media/news/2017/11/22/cityus-smart-system-battery-monitoring-can-significantly-save-time-and-energy
News reports in: Headline Daily, Ming Pao, Sing Tao,Ta Keung Pao, Wen Wei Po

Live TV News: https://www.youtube.com/watch?v=GhW_iS0ElUw

Video clip: MP4 by CityU and Yahoo 教學研習
Blog of Secretary for Development: https://www.devb.gov.hk/en/home/my_blog/index_id_260.html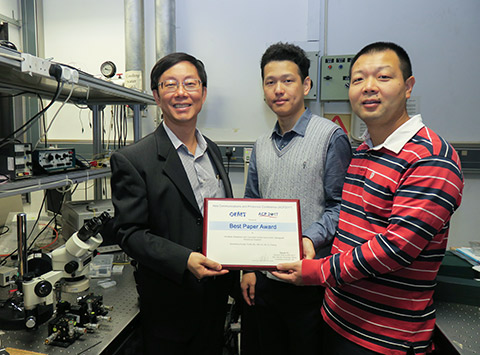 Best Paper Award at Asia Communications and Photonics Conference 2017
Prof K S Chiang, Dr Jin Wei (Senior Research Assistant), Dr Wu Yunfei (PhD graduate) and Mr Huang Quandong (PhD student), have won the Best Paper Award at Asia Communications and Photonics Conference (ACP) 2017. The winning paper is titled "Six-mode multiplexer with cascaded vertical asymmetric waveguide directional couplers".

ACP is currently the largest conference in Asia-Pacific region on optical communications, photonics, optical sensing and relevant optoelectronic technologies. There were about 300 oral contributed papers submitted to the conference and the named paper is one of the only two papers being selected to receive such award.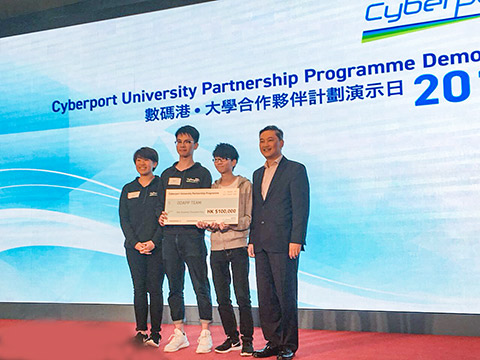 EE Team Winning HK$100K from The Cyberport University Partnership Programme 2017 for Developing FinTech Start-up Project
Mr Yip Yu Cheong (INFE, final year) and Mr Lam Yu Hin (CE, final year), who teamed up with student from School of Creative Media, have been selected to join The Cyberport University Partnership Programme (CUPP) 2017 and awarded HK$100K seed fund to develop their FinTech start-up project "ODAPP – One Device All Payment Platform". The winning team is supervised by Dr Ray Cheung, Associate Professor of EE.
CUPP is a FinTech-focused entrepreneurship programme for local university students to unleash their potential, gain insights into the global market, and receive a unique chance to participate in an Entrepreneurship Boot Camp at the Stanford Graduate School of Business (Stanford GSB) and receive mentorship from industry elites. More about this meaningful programme can be found here.

This is the third year Cyberport running such a programme and two EE teams had been selected to join the programme in 2015 and 2016 respectively. It's so exciting that EE team did a good job this year again and got the funding to further develop their FinTech idea. I'm also glad to tell you that the winner in 2015, Mr Kinni Mew (CE graduate in 2012), is now successfully running his start-up through the CUPP. You may check here for his successful story.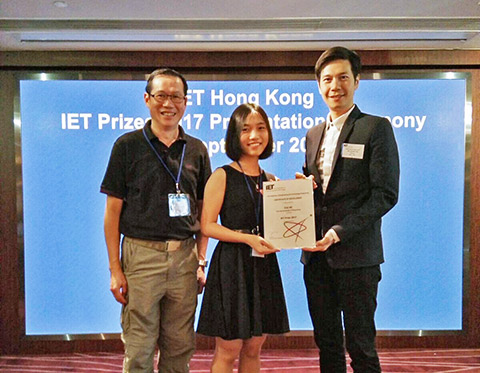 INFE Student Winning IET Prize 2017
Miss CUI He (INFE, 2015 entering major) has recently won the IET Prize 2017, which was organized by The Institute of Engineering and Technology (IET).

IET's vision is to inspire, inform and influence the global engineering community, and to support technology innovation to meet the needs of society. The IET Prizes were set up to recognize excellent students who have achieved excellence at selected programmes that falls within the IET's scope of interest. Being the top student in INFE (CGPA 3.99 and being placed on Dean's List for 5 consecutive semesters) and actively participated in numerous co-/ extra-curricular activities such as EE Student Ambassador Scheme, Summer Exchange and Student Tutor for the Department, Miss Cui was nominated to compete for the prizes.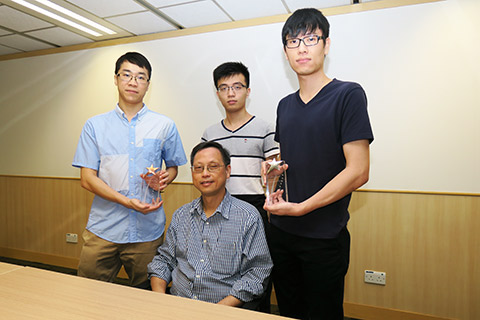 1st and 2nd Runner-up in IET Young Professionals Exhibition & Competition (YPEC) 2017
Two teams of EE postgraduate students under the supervision of Dr K F Tsang have been awarded 1st Runner-up and 2nd Runner-up in IET Young Professionals Exhibition & Competition (YPEC) 2017.
1st Runner-up: "Smart Abnormal Status Detection based on Electrocardiogram Signal" by Mr Liu Yucheng (Msc), Mr Wu Chung Kit (PhD) and Mr Zou Zijie (Msc)
2nd Runner-up: "An Efficient Seamless Localization Scheme by Mr Hung Faan Hei (PhD)
YPEC acts as a dynamic platform for young professionals from different segments to exhibit their engineering and technology innovation in project presentations and booths. The theme this year is "Imagineering", which is the integration of "Imagination" and "Engineering". It aims to encourage young engineering professionals to embrace innovative ideas, transform imagination into reality and spread it all over the world.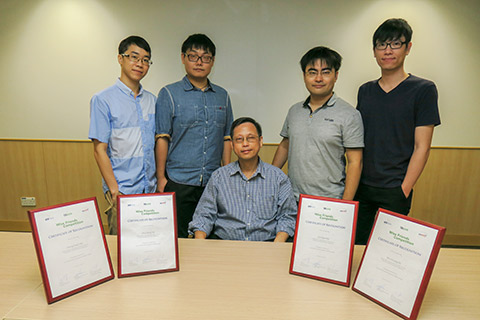 Second Prize in the 2nd Wise Friends Competition
The EE team, comprising of three PhD students, Mr CHI Haoran, Mr HUNG Mr Faan Hei and Mr WU Chung Kit, and one Research Assistant, Mr ZHU Hongxu, has won the Second Prize in the 2nd Wise Friends Competition. The winning project, supervised by Dr K F Tsang, is titled "Emerging Internet of Things Secure Payment System".
Organized by BBPOS, a leading mPOS (mobile point of sale) solution provider, the competition is the first FinTech competition hosted in Hong Kong with the aim of encouraging innovation and creative thinking among the new generation of potential mPOS developers.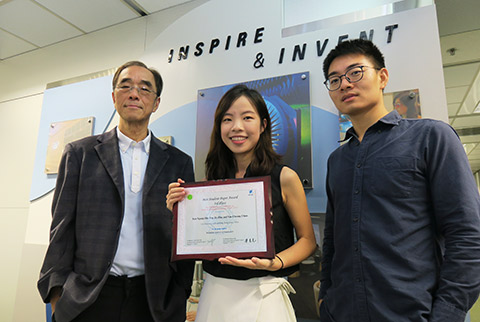 Best Student Paper Award (3rd Place) at ICEPT 2017
ECE final year student, Miss Yip Yuk Ngang Zita, and PhD student, Mr Zhu Ze, have won the Best Student Paper Award (3rd Place) at The 18th International Conference on Electronic Packaging Technology (ICEPT) 2017 which was held in Harbin, China, from August 16 to 19, 2017. The winning paper, supervised by Prof Y C Chan, is called "Reliability Analysis of Smartwatch"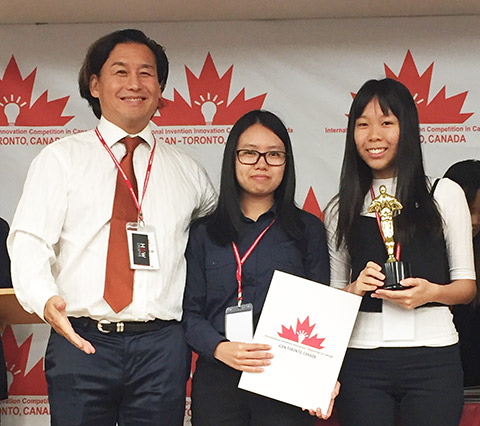 INFE Students Winning Two Prizes at iCAN 2017
Two INFE Year-3 students, Miss Do Ka Yui and Miss Tong Ka Yan, have won the Special Inventor Award for their project titled "Figano" (an invisible musical instrument gadget consisting of a pair of gloves and an app) and the Turkish Inventors and Inventions Association (TUMMIAD) Special Award for another project called "Veinian" (the finger vein authenticator) at iCAN 2017. The two winning projects are both supervised by Dr Ray Cheung, Associate Professor of EE. The two projects were awarded Gold Award and Silver Award respectively at the preliminaries in order to enter the final round.

Organized by Toronto International Society of Innovation & Advanced Skills (TISIAS), iCAN 2017 is arguably the first international invention exhibition and global networking event ever created in Canada for worldwide inventors to showcase their creative inventions, innovation projects and scientific research outcomes. The event this year attracted 415 applications from more than 30 countries and 121 inventions were exhibited at the Finals.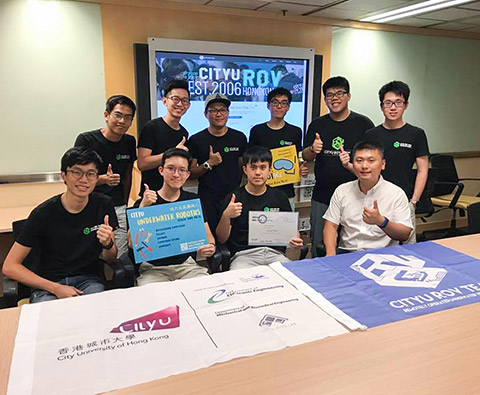 Second Prize in the 10th International Underwater Robot Competition
The CityU Underwater Robotics Team has won the Second Prize in the 10th International Underwater Robot Competition which was held in Hefei, China. The team, comprising three CE/CDE students namely Chan Peter, Cheng Yuk Shing and Tang Ka Chung and students from Department of Physics and Department of Mechanical and Biomedical Engineering, is supervised by Dr Ray Cheung (Associate Professor, EE) and Dr Yajing Shen (Assistant Professor, MBE).
There were over 100 teams from Asia, including teams from Peking University, National Taiwan University and Shanghai Jiao Tong University, joined the competition. Participating teams had to create a control algorithm instructing the robotic fish to complete different tasks such as scoring the most balls in a net in 10 minutes or picking up floating garbage from the lake.
Sharing of Learning Experience: https://youtu.be/JhhfArZaUt4.