The First International CityU EE Conference
The First International CityU EE Conference has successfully concluded at 26-29 Nov 2018
The conference ran over three days and featured various plenary, technical, interaction and collaboration sessions. About 20 CityU EE alumni returned to share highlights of their work in academia, industry and government institutions. While the alumni cherished a chance to visit their former advisors, meet other faculty members and revisit their Alma mater, they have also brought much encouragement to the department by witnessing how far they have gone in their respective professional careers. Our current students benefitted greatly from our alumni's heartfelt sharing regarding their technical expertise and perspectives on industrial trends. The conference program can be found here.
School of Creative Media Outstanding Teacher shared topic on "Situating Science and Technology in New Contexts"
Dr Miu-Ling Lam, Associate Professor/Program Leader of Bachelor of Arts and Science in New Media, School of Creative Media of CityU, was invited to speak on the topic "Situating Science and Technology in New Contexts" on 21 November 2018. Dr Lam received CityU "Teaching Excellence Awards" in 2018.
CityU Information Day 2018
CityU Information Day 2018 was held on 13 October 2018 where thousands of prospective students and parents visited our exhibition booth, informative programme talks and interesting laboratory tours to understand more our majors and their career prospect as well as the learning environment at CityU-EE.
We were so happy to see that visitors were amazed and impressed by the innovative projects and products developed by our professors and students.
AI Summer Course for High School Students
A group of 30 high school students from 15 local secondary schools had a great time at our Department by joining the 2-week AI Summer Course in August 2018. After the eight intensive workshops, participating students are expected to serve as ambassadors to help deliver AI workshops and promote AI/ ICT education at their home schools. In just 2-week time, many of them found that they are more interested in learning AI, love to learn more about AI in the future, and will try to apply what they have learned. We do hope that they will carry on their passion on AI, grow strong and flourish in the related field one day.
CityU EE International Summer Camp Farewell and Closing Ceremony
Having travelled hundred or even thousand miles from home to arrive in Hong Kong, 60 overseas students spent 5 weeks on CityU campus to mingle with CityU EE undergraduates and some local senior secondary school students. Not only did they feel the vibrancy of this international metropolis, but also they built and programed their remote controlled airships. The hardest thing was the moment to say goodbye at the farewell and closing ceremony on 8 August 2018.
Mingpao Daily, A12, 10 August 2018 工程教授指DSE生數理基礎遜舊制 礙銜接大學 城大改夏令營彌補
https://news.mingpao.com/pns/dailynews/web_tc/article/20180810/s00002/1533839386543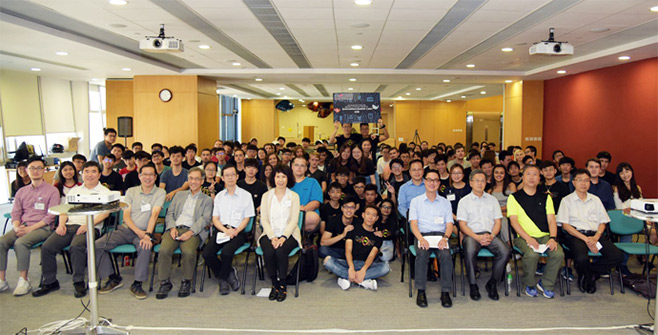 Big Welcome to Staff and Students from Jilin University
We were so happy to meet with about 150 staff and students of College of Electronic Science and Engineering, Jilin University at CityU on 26 July 2018. We had a good get-together starting with an introduction of CityU and EE Department, followed by technical talks and campus plus EE laboratory visit.
Prof Stella Pang, Head and Chair Professor of EE Department, was invited to deliver welcoming remarks at the Closing Ceremony of the programme which was held on 4 July 2018 at CityU.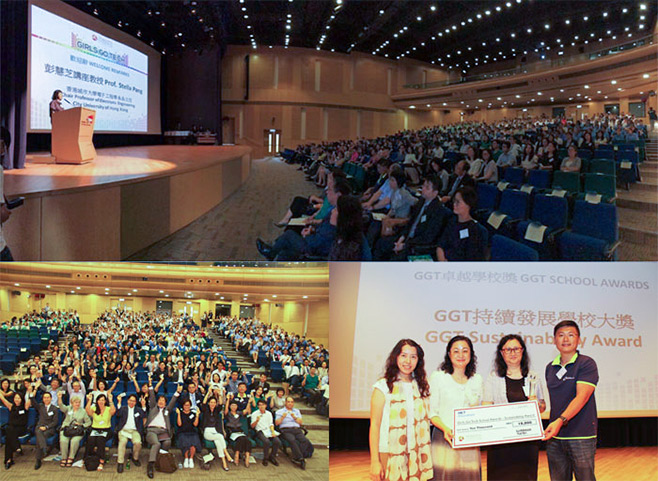 We are so honored to be a partner of the Women's Foundation to help encourage junior secondary school girls from under-privileged backgrounds to pursue traditionally male-dominated STEM (Science, Technology, Engineering, Mathematics) related subjects to maximize their future career options through the year-long school-based "Girls Go Tech" programme. Prof Stella Pang, Head and Chair Professor of EE Department, was invited to deliver welcoming remarks at the Closing Ceremony of the programme which was held on 4 July 2018 at CityU. Our Dr Ray Cheung (Associate Professor) is also a member of the Steering Committee of the programme in 2017-18 to guide the development and implementation of the programme. There were 520 F.1-F.2 girls from 13 schools benefited from the programme in the 2017-2018 cycle, showing significant improvements in their interest in and confidence around STEM, intention to study or work in STEM related fields, and enhanced proficiency in problem solving skills, analytical skills or communication skills. May the youngsters continue to flourish and enjoy in tech.
A Full House of Students joining JS1205 Programme Information Session and its complementary mBot Workshop
This year the JUPAS Programme Information Session and its complementary 1-day mBot workshop for JUPAS applicants, both of which had a full house of participants, were held on 3 July and 4 July respectively.
CityU Scored the Highest "Expected Output Index" in Electrical and Electronic Engineering
CityU has been put at the top of the list worldwide for the field "Electrical and Electronic Engineering" by scoring "expected output index of 2.6", according to Times Higher Education World University Rankings. It means that 26 percent of CityU's scholarship in this area was in the top 10 percent of cited publications from 2014 to 2017.
Launch of Bi-weekly EE Multidisciplinary Research Forum
Recently a bi-weekly departmental forum, focusing on multidisciplinary research, is successfully launched in the format of a faculties' lunch greeting at Electronic Engineering Department. The forum consists of two sections of free discussions (before and after the talk) and a 20-30 min research-sharing presentation.