Staff and RS Get-to-gather – Hiking and Dinner
Hong Kong's weather in December is very nice and it is a perfect time to have some outdoor activities. EE department organized a hiking get-to-gather event for professors and research students on 30 December 2017. The purpose of this event is to provide a casual occasion for fostering research collaborations in new or interdisciplinary directions. The place for the hike is Mount Cameron in Hong Kong Island.
Tribute to Long Serving EE Staff
The loyalty and hard work of 14 EE professors, technical and administrative staff were honored at the Long Service Award Ceremony organized by Human Resources Office on 30 October 2017. Our achievements and successes are down to the dedication and professionalism of these valuable staff with long service spanning 10 to 30 years. Our heartfelt thanks to Dr Nelson Chan, Mrs Sandy Cheung, Dr Hung Chim, Dr Y T Chow, Dr Lin Dai, Dr S H Leung, Ms Candy Leung, Prof K M Luk, Ms Jovi Mok, Dr Derek Pao, Dr L M Po, Prof Edwin Pun, Mr Van Ting and Dr Kelvin Yuen for all they have done for the Department and the University!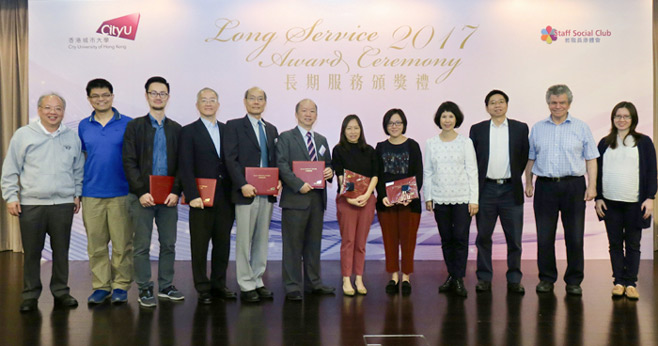 CityU Information Day 2017
CityU Information Day 2017 was held on 14 October 2017.
Professors and student ambassadors of EE Department were so happy to meet thousands of prospective students and parents and share with them the learning opportunity and environment at CityU-EE. Exhibition booth, informative programme talks and interesting laboratory tours were arranged where visitors not only understood better our majors and the career prospect, but also were amazed and impressed by the innovative projects and products developed by our professors and students.
Stanford Top Scholar Fostered High Impact Interdisciplinary Research and Education
Since last visit in February 2017 by Professor Stephen P. Boyd, a renowned scholar and high caliber figure of control systems engineering and optimization, Prof Boyd visited CityU again from 8 September to 14 September 2017.
The 5-day programme was intensive and constructive. The charisma of Prof Boyd attracted six departments – Departments of Electronic Engineering (EE), Computer Science (CS), Mathematics (MA), Mechanical and Biomedical Engineering (MBE), Management Sciences (MS), and Systems Engineering and Engineering Management (SEEM) -- to get together to explore high impact interdisciplinary research and education opportunities.
FinTech Projects of EE Students and Graduate were showcased to HKSAR Government Officials
Two FinTech projects, incubated and developed by our EE students and graduate, were showcased to Mr Paul Chan, GBM, GBS, MH, JP (Financial Secretary), Mr James Lau JP (Secretary for Financial Services and the Treasury) and Mr Nicholas W Yang, GBS, JP (Secretary for Innovation and Technology) when they visited CyberPort on 20 August 2017.
Related press release can be found from the blog of the HKSAR Financial Secretary http://www.fso.gov.hk/eng/blog/blog200817.htm.
"AI Chatbot" by Mr Kinni Mew, 2012 graduate in Computer Engineering, and now Senior Data Engineer and Cofounder of Mindlayer Limited
"TicketChain" (a blockchain ticketing system) by Mr Bobby Fan & Miss Xin Yan, Final year student in Computer Engineering, and student from EF Department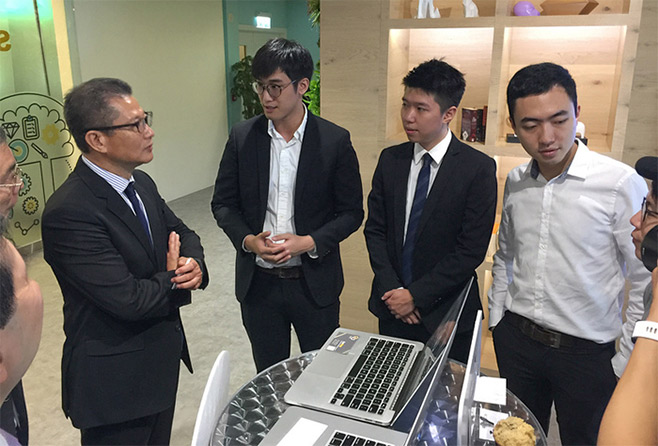 ​ ​Photo captured from the blog of HKSAR Financial Secretary
EE International Summer Camp 2017 - Closing and Farewell
EE International Summer Camp closing ceremony held on 31 July 2017
For the 60 summer camp participants, who have travelled hundred or even thousand miles from home to come to City University of Hong Kong and spent 5 weeks here, mingled with some local students of Department of Electronic Engineering, to learn about mini robotic building and motion control programming as well as to feel the vibrancy of this international metropolis, where blends western and eastern cultures, the hardest thing is to say goodbye, no matter in which language, in its closing ceremony held on 31 July 2017.
A Complementary Workshop for JUPAS Applicants - mBot Go!
About 40 Form 6 students joined a full-day workshop mBot Go! organized by Department of Electronic Engineering on 6 July 2017, on which they were given a challenge to build, programme and remote control a mBot to compete in a car race against each other.
To all of them it was a first-time experience to have a taste of robotic controls involving line tracking and object avoidance. The workshop was a good opportunity for undergraduates-to-be to have some hands-on experience of both hardware and software applications prior to their entry to university.
A Full House of Students joining JS1205 Programme Information Session
Around 270 F.6 students joined the Programme Information Session for JUPAS Applicants hosted by EE Department held on 5 July 2017. The event comprised of an interactive Technology Play acted by three EE students showcasing the latest EE technologies and innovative projects our students and faculty had been engaged in, a talk on "EE Programmes and Career Opportunities" introducing our programme and latest bloom of EE sector in the work market, and parallel sessions of group interviews that were arranged at the end to wrap up the day.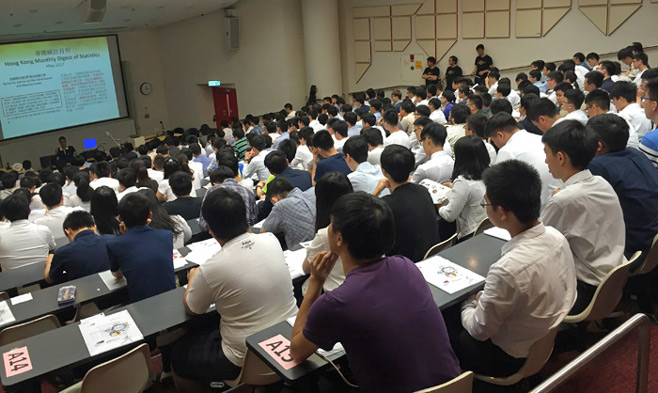 Research Symposium for Postgraduate Students
Over 130 EE postgraduate students and faculty members joined the Research Symposium held on 9 March 2017 where 20 some student research works, covering areas in Applied Electromagnetics, Optoelectronics, Electronics, Nanotechnology & Biosystems, Networking, Wireless Communication and Computer Engineering & Control Systems, were showcased to compete for the Best Presentation Awards.
Students grabbed every opportunity to introduce their research works to participants during the poster presentation session. This exchange platform also facilitated students to broaden their cross-disciplinary knowledge.
Stanford Top Scholar attracted overwhelming responses on topic "Convex Optimization"
Professor Stephen P. Boyd, a renowned scholar and high caliber figure of control systems engineering and optimization delivered a talk titled "Convex Optimization" under IAS Distinguished Lecture Series on 17 February 2017.
Prof Boyd is the Samsung Professor of Engineering, in the Information Systems Laboratory, Electrical Engineering Department, Stanford University, and a member of the National Academy of Engineering. His charisma and prestige in the field attracted over 300 people to his talk, with many sitting on the floor or standing for more than an hour.