Hong Kong PhD Fellowship Scheme (HKPFS) - CityU EE Virtual Workshop 2021
The Department is organizing a PhD recruitment virtual workshop to promote our PhD program to interested students. It aims at matching excellent candidates to suitable PhD supervisors in EE and prepare them to compete for the HKPFS later this year. Excellent candidates supported by EE faculty will also be considered for early admission.
Date: 19 July 2021
Venue: By Zoom
Language: English
Registration: Download application form HERE and send the completed form to eepostgrad@cityu.edu.hk
Application Deadline: 30 Jun 2021
Virtual Student Project Exhibition 2021
The Student Project Exhibition is an important event of the College of Engineering. A wide range of student and staff research projects with daily applications, will be showed in an interesting and lively manner throughout the two-day event. In addition, there will also be 8 live STEM workshops on both days for secondary students to experience science, technology and engineering activities delivered by our teachers.
Date:  29-30  June 2021
Time: 10:00am to 6:00pm
Registration: https://cityu-ceng-spe2021.o-server1.com/registration/
CityU EE Established New Joint Research Laboratory with Six World-renowned Enterprises to Further Strengthen the Commercialization of Innovative Technology
City University of Hong Kong (CityU) - Department of Electrical Engineering (EE) and six world-renowned technology companies, including Compass Technology Company Limited, Intel Corporation, Hewlett Packard Enterprise, Pong Yuen Group, Provista Group, and United Microelectronics Center (Hong Kong) announced the establishment of the City University EE Joint Laboratory on 3 June 2021 to jointly promote scientific research and transfer of knowledge and technology, and strengthen the development of Hong Kong's innovation and technology.
Professor Michael Tse, Associate Vice-President (Strategic Research) and Chair Professor of Electrical Engineering was very pleased to witness the commencement of phase four of the joint laboratory programme and expected that the plan will develop more innovative technologies, in line with the trend of high-tech marketization, to promote University students to join global technological entrepreneurship and benefit our society.
Since its establishment in 2019, the CityU EE Joint Lab Programme has connected with a total of 22 CityU EE Joint Lab Partners. A series of cooperative and technical projects have been/will be launched with these partners. For example, ASM Pacific is now carrying out new research projects with EE Faculty. Gold Peak Group has arranged research projects and on-site visits to the Hong Kong Science and Technology Park and the Central KEF Advanced Audio Experience Center, and gave a training program to EE students. Microsoft Hong Kong and Macau arranged training programs for hundreds of EE students with relevant global certifications. SmarTone Group has set up a new 5G laboratory at CityU to enhance the research work of related Faculty and graduate students. SUGA International Group Co., Ltd. arranged a research project in high-performance and low-power hardware design with artificial intelligence for pets. Many more exciting collaborations are expected as we continue to work closely with our CityU EE Joint Lab partners.
| | | |
| --- | --- | --- |
| |   | |
To celebrate the achievements of our alumni/ individuals in their career, and/ or servicing CityU EE community, or our society; EE is going to launch our exciting brand-new 1st EE Annual Awards!
Nomination Period: 1 February 2021 – 31 May 2021
Please find more details HERE.
2021 CityU JUPAS Virtual Consultation Day
CityU Virtual JUPAS Consultation Day was held on 22 May 2021. EE Department has offered three 1.5-hour sessions throughout the day where admission talks, inspiration talks, consultation and student experience sharing were delivered.
Sharing Session on ITF Grant Application
EE Department is committed to perform innovative and high impact research. Sharing sessions on different grant applications have been held from time to time allowing faculty to exchange experiences on grant applications and explore collaboration opportunity.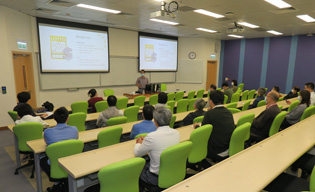 A sharing session on Innovation and Technology Fund (ITF) grant application was held on 29 April 2021. Prof Henry Chung (Chair Professor of EE), who has been successful in getting ITF grants over the years, shared with colleagues the key elements to consider when preparing ITF proposals and tips to seek for collaboration with industrial partners, on top of a brief introduction of the funding opportunities available from ITF.
EE Student Chapter Company Visit
To learn about career opportunities and to gain industry insights, EE Student Chapter (EESC) organized a company visit to Gold Peak Industries (Holdings) Limited on 8 April 2021
Students interacted with executives and employers to learn about relevant job opportunities, as well as gain insights from their iconic products. They actively asked questions during the visit to know more about the company and were excited by the job opportunities and the challenges ahead.
ASM Pacific Technology Limited visited CityU EE
Six representatives of ASM Pacific Technology Limited, one of our EE Joint Lab scheme partners, visited EE Department and the State Key Laboratory of Terahertz and Millimeter Waves on 8 April, 2021. In addition to share EE department's strengths in teaching and research, EE faculty also had fruitful discussions on the ways to support student learning and research collaboration. Several research areas related to the most advanced industrial automation and communication technologies were deliberated.
Major Allocation Information Sessions 2021
To facilitate EE Year 1 Students in choosing their majors (Computer and Data Engineering/Electronic and Electrical Engineering/Information Engineering) in the Major Allocation Exercise held in June 2021, three information major sessions were held on 7 and 8 April 2021.
The sessions successfully attracted 196 student counts. By joining the sessions, students got more thorough understanding about the features and curriculums, learning opportunities, career prospects of graduates, comparison of majors, etc. of the three majors being presented by our Year 1 and Major Programme Leaders – Dr Sammy Chan (Year 1), Dr Yanni Sun (CDE), Dr Andy Chan (ELEL), and Prof H C So (INFE).
United Microelectronics Centre (Hong Kong) visited CityU EE
On 30 March, 2021, five EE faculty had an information sharing meeting with the senior management of United Microelectronics Centre (Hong Kong) at EE department and the State Key Laboratory of Terahertz and Millimeter Waves. There were extensive exchanges on various collaboration opportunities. Various state-of-the-art communication technologies and their applications were shared. The guests also visited EE Cleanrooms and the Centre for Biosystems, Neuroscience, and Nanotechnology.