CityU-EE x Cyberport Joint Lab: CityU Underwater Robotics Team in Digital Entertainment Leadership Forum 2021 – Infinity Games
CityU-EE and Cyberport have successfully launched the CityU-EE x Cyberport Joint Lab on 18 November 2021. As part of the collaboration initiatives, CityU Underwater Robotics Team (UR Team) participated in the Digital Entertainment Leadership Forum (DELF 2021) held at Cyberport during 10 – 12 December 2021, sharing the excitement of co-hosting the Infinity Games themed with the Sea, Land and Air elements by presenting the underwater football show matches. The team also organized the workshops for the visitors to build their own Basic ROV (Remotely Operated Vehicle).
This was certainly an eye-opening experience for the members of CityU UR team which allowed them to showcase the team's recent development as well as to interact with resourceful personalities from different industries. Their tireless effort contributed to the success of the event. Visitors enjoyed the esports-like underwater football show match and shown strong interests to explore engineering knowledge and support the new generation to know more about EE.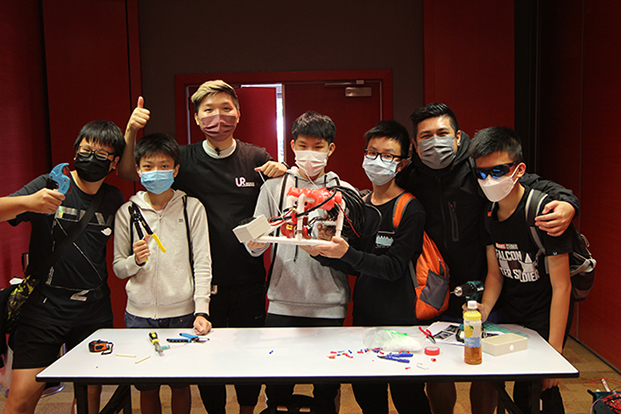 "Science in the Public Service" Lecture Series – "How does Artificial Intelligence Compute – Past, Present and Future?"
Dr Ray Cheung, Associate Professor of EE, has delivered a talk titled "How does Artificial Intelligence Compute – Past, Present and Future?" at the Hong Kong Science Museum for the "Science in the Public Service" (SIPS) campaign on 4 December 2021. The event was held in a mixed mode of offline and online.
SIPS is a joint campaign organized by government bureaux/departments and other organisations to promote their scientific work and application of technology to the provision of services for the general public. Dr Cheung's talk, which attracted around 200 audiences attended, focused on the science and engineering foundational knowledge for computing, as well as the recent blooming of artificial intelligence (AI) around the world. The recent technological advancement in processor architecture, industrial AI processor designs, and upcoming technology trends are also covered in this public science lecture.

Departmental Executive Committee Retreat 2021
The First 2021-2022 Departmental Executive Committee Retreat Meeting was held on 30 November 2021 at InnoCell, HKSTP. Topics discussed covered identification of high impact cases and strategic interdisciplinary projects, as well as targeted areas for faculty recruitment. The team also took the opportunity to visit the three CityU Research Laboratories/Centers under InnoHK Research Clusters located at HKSTP.

EE Annual Dinner was held on 29 November 2021 at a restaurant located in Hunghom where EE staff, research students and their families had a casual get-together for chit-chat and fun. We had the pleasure having President of the University, Prof Way Kuo, and Dean of College of Engineering, Prof Tei-Wei Kuo, joined us on the night. We also took this opportunity to connect our staff and students with the industry by inviting Departmental Advisory Committee members and CityU EE Joint Lab partners to attend this annual event.
Thanks to the active participation of EE staff and students, the wonderful singing competition allowed the EE community to taste the different versions of CityU Anthem "Beyond Boundaries". The quiz game also let us to know more the recent development of CityU and EE. The singing performance by EE professors and students with the companion of play of guitar led to the climax of the night. The joyful night was rounded up with the fabulous lucky draw.

The Department organized "Harness the Wind Fun Day" led by Professor Ben Leung, with contribution by Dr. Ray Cheung on 27 November 2021. Over sixty S5 and S6 high school students with their school teachers and principals in 7 secondary schools joined it.
The Fun Day inspired the students by introducing the movie "The Boy Who Harnessed The Wind", the young Malawian genius who built a windmill entirely via DIY methods and saved his family and village from drought and famine. It also provided high-school students hands on experience, with teaching of simple wind power generator and building up their own wind power generator in a competition. Two current EE students, Mr. Kenny Chan (Year 1) and Mr. Charles Chan (Year 3 ECE), shared their learning experiences in EE. During the Fun Day, the teachers and principals were treated to a Laboratory Tour featuring the teaching facilities and projects within CityU-EE. We concluded with an Q&A among high-school students, EE undergraduate students and EE professors. All the participants found the Fun Day fruitful and increased their interests in CityU EE.

Second EE Academic Staff Meeting in 2021/22
The second academic staff meeting among all EE faculty was held on 26 November 2021, at the time when the first semester of 2021/22 is about to close.
The Chairman presented updates on the development of teaching, research, and industrial collaborations of the Department in the past several months. Examination arrangements for Semester A, PhD admission, and laboratory safety and relocation were also highlighted and discussed.

Presentation of Awards and Farewell to Long Servicing EE Colleagues
There are 17 EE colleagues received the University Long Service Award 2021. A ceremony was held on 19 November 2021 by the Department to present awards to colleagues who have served the University and the Department for 10 years to 35 years.
At the same occasion, we also bid farewell to the long servicing Senior Technical Officer, Mr C Y Cheng, who served the Department and the University for 36 years and will retire by end of November this year. 

Our achievements and successes are only possible because of their dedication and professionalism. Our heartfelt thanks to all of them!

Long Servicing EE Staff 2021
Ms Jay Au-yeung
Dr Andy Chan
Prof C H Chan
Dr K L Chan
Dr Rosa Chan
Dr Bernard Chiu

Mr C M Fung
Mr W K Kan
Mr Robust Lai
Mr C Y Lau
Mr C K Lau
Prof Ping Li

Ms Jenny Lim
Mr Vincent Mok
Mr P L Ng
Dr Peter Tsang
Dr Polis Wong

CityU EE Established New Joint Laboratory with another Six World-renowned Enterprises to Develop an Innovation and Technology Ecosystem in Hong Kong
City University of Hong Kong (CityU) - Department of Electrical Engineering (EE) and six world-renowned technology companies, including Cyberport, FUJIFILM Business Innovation Hong Kong, Gravity Capital Partners, Hong Kong Science and Technology Park (HKSTP), Logistics and Supply Chain MultiTech R&D Centre (LSCM), and NVIDIA Hong Kong Artificial Intelligence Laboratory announced the establishment of the City University EE Joint Laboratory on 18 November 2021 to jointly promote scientific research and the transfer of knowledge and technology, and build the Hong Kong innovation and technology ecosystem.
Professor Christian Wagner, Provost and Chair Professor of Social Media, was delighted to witness the commencement of phase five of the joint laboratory programme and mentioned that "The EE department at CityU is merely one component in this partnership. The strength of the network arises from the excellent joint research and innovation activities with the now 28 partner organisations. Networks are strong, resilient, and create exponential benefits for their participants. This is the essence of success of the CityU EE Joint Lab."
Since its establishment in 2019, the CityU EE Joint Lab Programme has connected with a total of 28 CityU EE Joint Lab Partners. A series of cooperative and technical projects have been/will be launched with these partners. For example, Compass Technology has arranged a student internship programme and has invited university professors to discuss research projects. Intel Co., Ltd. has arranged FPGA online training for CityU EE students. Hewlett Packard Enterprise (HPE) and Joint Universities Computer Centre held an artificial intelligence lecture and invited university students to participate. Pong Yuen Group has donated NVIDIA JETSON Nano computing platforms for organizing artificial intelligence training classes to allow undergraduates and graduate students to participate in AI learning. United Microelectronics Center (Hong Kong) arranged lectures with professors from EE and deepened the joint research with CityU.


News report in: Ta Kung Pao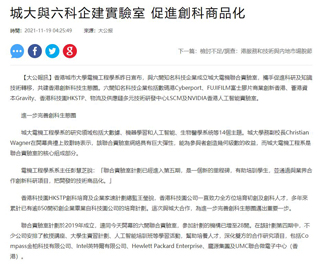 Videos
 

 

CityU EE: Joint Lab Phase 5 Opening Ceremony 2021

Joint Lab Phase 5 Welcome Speech by Professor Stella Pang 2021

 
 

Joint Lab Phase 5 Welcome Speech by Professor Christian Wagner, Provost and Chair Professor of Social Media 2021

Sharing from Ir Eric Chan (Cyberport)

 
 

Sharing from Dr Jacky Ng (Fujifilm)

Sharing from Mr Eric Yip (Gravity)

 
 

Sharing from Mr Joe Chan (HKSTP)

Sharing from Mr Simon Wong (LSCM)

 
 

Sharing from Mr Samuel Lo (nVidia)

Joint Lab Phase 5 Closing Remark by Professor Stella Pang 2021
First Departmental Advisory Committee Meeting in 2021/22
The First Departmental Advisory Committee Meeting for the academic year 2021/22 was held on 16 November 2021 where seven members from the industry attended.
There was active discussion about boosting the publicity of EE locally and globally, recruitment and nurturing of quality students and fostering closer tie with the industry and government. With their visionary and constructive advices, the Department would continue to excel in teaching and research.

RGC Public Lectures – "High-Performance Antennas for Wireless Communications" by Prof C H Chan
Prof C H Chan, Chair Professor of EE and Director of State Key Laboratory of Terahertz and Millimeter Waves, has been invited to be one of the speakers for the Research Grants Council (RGC) Public Lectures 2021. The talk delivered by Prof Chan was titled "High-Performance Antennas for Wireless Communications" and was held at Hong Kong Science Museum on 14 November 2021 in a mixed mode of offline and online.
To let the community know about the importance and values of the work of the researchers and their contribution to society, RGC has been organizing regular public lectures to introduce to the public the achievements of the researchers. At the talk, Prof Chan talked about the development of antennas for modern wireless communications by his antenna research team. You may click HERE to view the video of the talk.