EE and Five Technology Organizations Establish Joint Laboratories to Drive Research and Commercialisation
City University of Hong Kong (CityU) - Department of Electrical Engineering (EE) and five technology organizations including Automotive Platforms and Application Systems R&D Centre (APAS), Electrical and Mechanical Services Department (EMSD), Hong Kong Applied Science And Technology Research Institute Company Limited (ASTRI), Hong Kong Electronic Industries Association (HKEIA), and Hong Kong Productivity Council (HKPC) announced the establishment of five CityU EE Joint Labs on 19 September 2019.
CityU EE Joint Lab is a "Government-Industry-Academic-Research Centre" scheme for collaboration between EE Department and industrial associations, research centres, corporates and organisations. This scheme includes physical lab logo wall setup in the EE Department; an online platform linked up with the EE Department website to share the progress of collaboration and projects; a series of regular networking events for industrialists, faculty members, and students, etc.. The Joint Lab aims to empower recruitment, research collaboration, commercialisation, and technology transfer.
News reports in: Skypost, Hong Kong Economic Times, Hong Kong Economic Journal, Sing Tao Daily, MingPao, Wen Wei Po, Lion Rock Daily, The Standard, CityU News Centre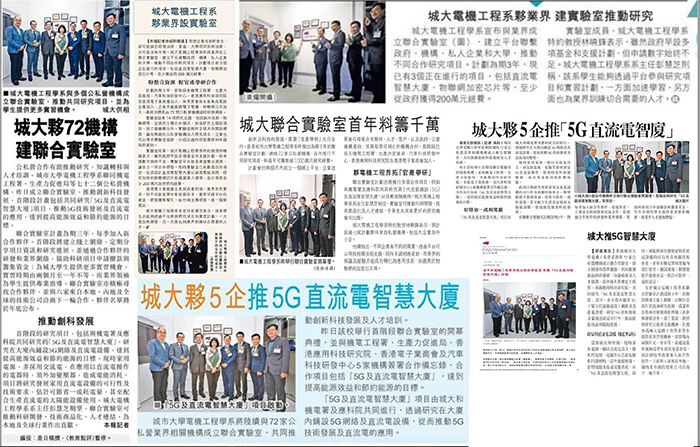 Video Links:
■ Sharing From Mr. Hugh Chow (ASTRI)
■ Sharing From Mr. CK Lee (EMSD)
■ Sharing From Dr. CH Ng (HKEIA)
■ Sharing From Dr. Lawrence Poon (HKPC & APAS)