CityU Alumni Reunion Gala 2023 - EE Seminar & Networking Reunion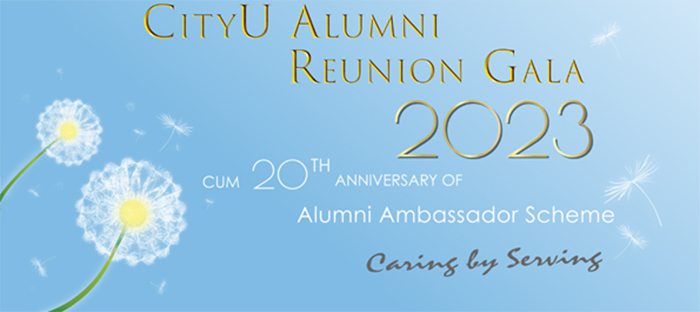 This year marks the 20th Anniversary of the Alumni Ambassador Scheme. The EE Department will be organizing a seminar and networking reunion on 14 October 2023 (Saturday) to provide an opportunity for you to network with other EE alumni and learn from the inspiring sharing by Prof. Ray Cheung and Prof. Arindam Basu. As seats are limited, check out the event and register NOW!
Topic:
EE Seminar & Networking Reunion
Speakers:
Prof. CHEUNG, Ray C C, Associate Provost (Digital Learning) and Professor
Prof. ARINDAM BASU, Professor and Programme Leader of Microelectronics Engineering
Mr. James Kong, EE Alumni Association Chairman
Date:
14 October 2023 (Saturday)
Venue:
Lily Chiang Lecture Theatre (LT7), 4/F, Yeung Kin Man Academic Building
EE Student Orientation 2023 – A Big Welcome to all EE New Students!
EE Student Orientation was held on 29 August 2023 (Undergraduate students), 31 August 2023 (Master students) and 7 September 2023 (PhD students) to extend our warmest welcome to the new students joining the EE family. It was exciting and happy to meet some 250 students on campus and exchange with them.
Various informative sessions were arranged to let students know more about the Department, the programme, student learning support and graduate career outlook. Big welcome again and may we wish you all a fulfilling and amazing journey with EE!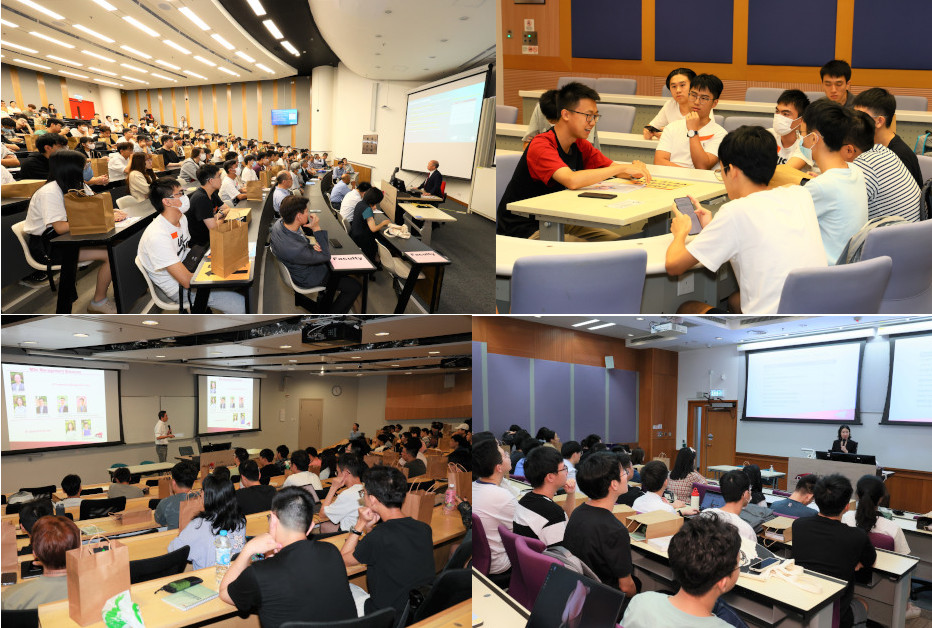 Participating faculty:
Welcoming & Introduction to EE: Prof K M Luk, Prof Albert Sung, Prof Rosa Chan, Prof Ray Cheung
CDE: Prof Yanni Sun, Prof K L Chan, Prof L M Po
ELEL: Prof Andy Chan, Prof W S Chan, Prof L K Chin
INFE: Prof Andrew Leung, Prof H C So, Prof Y J Chun
MEE: Prof Arindam Basu, Prof Alex Wong
First-year: Prof Sammy Chan
PhD and MSc Programmes: Prof Leanne Chan, Prof Arindam Basu, Prof Steve Wong, Prof Derrick Jiang, Prof Young Jin Chun, Prof Alex Yu
Presentation of EE Graduate Research Seminar Awards 2022/23
The Postgraduate Research Seminar Series were held on every Friday throughout each semester in the academic year 2022/23. It aims to help students to develop general appreciation on different subject areas, research methodologies, and technical presentation skills through participation in research seminars conducted by faculties, visiting scholars, and research students.
The Best Postgraduate Research Seminar Awards were established to recognize students who presented their research works in these seminar series excellently. Winners were selected based on the rating of each presentation by faculty and students attending the seminars. Awards were presented to the winners at the Research Student Symposium held on 1 June 2023.
Please see here for the details.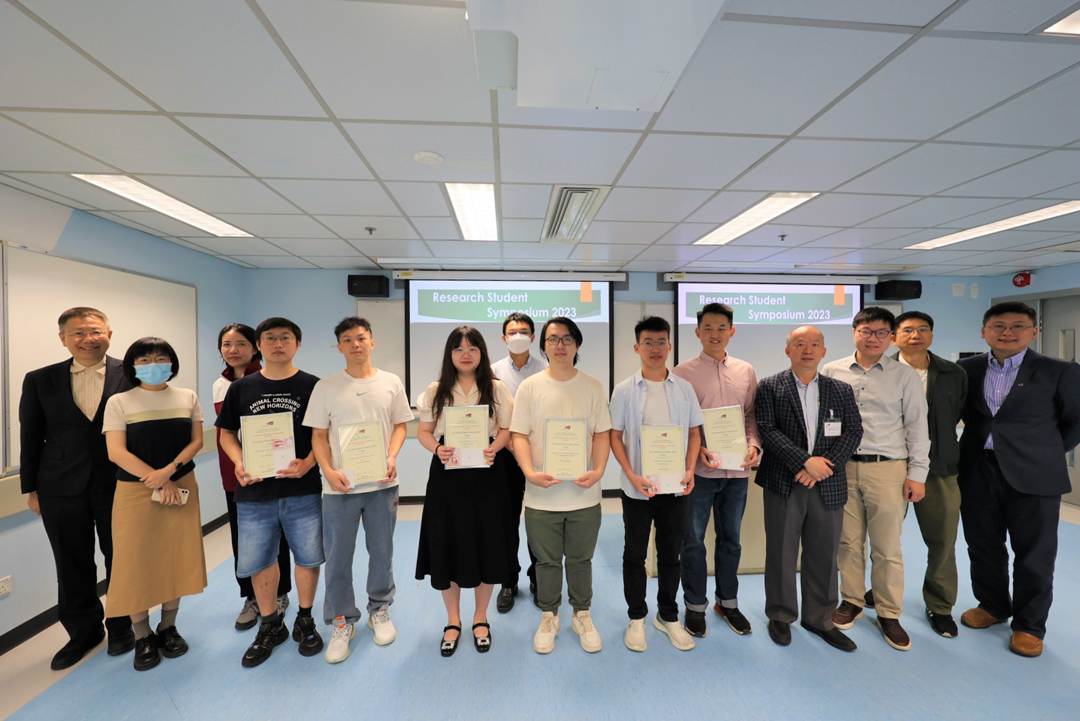 Research Student Symposium 2023
Research Student Symposium was held on 1 June 2023. It is an annual event where all research students and research staff were invited to submit posters introducing their research works. A total of 42 submissions were received this year. Each participant was given 3-min for presentation and 2-min for Q&A. Selected EE faculty members in the related research areas were judges to assess the performance. Best Presentation Awards were set up to recognize outstanding presenters.
Participants enjoyed the interactive platform to exchange with faculty members and to know more about what research works other students or research staff are doing. The day rounded off with invaluable discussion and encouragement.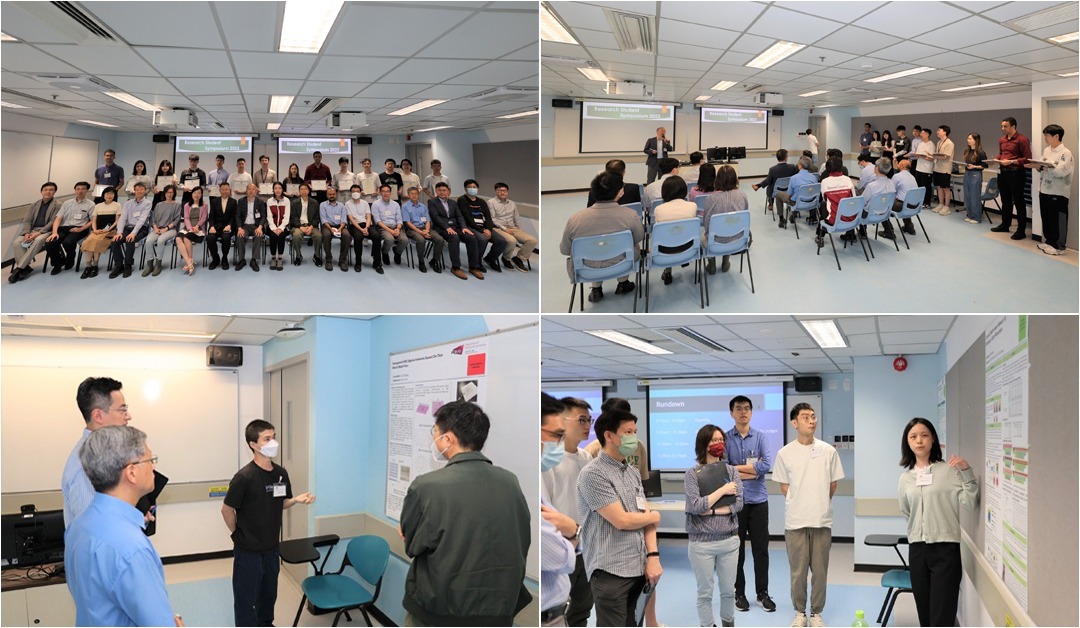 Please see here for the details
Huawei x CityU-EE Joint Lab - Huawei Training for CityU Students
EE Final Year Project Competition 2023
The Final Year Project (FYP) Competition was successfully held on 9 May 2023. This year, six projects were shortlisted to enter Finals in way of poster presentation. All contestants were enthusiastic and professional in introducing their innovative and novel ideas in their project works, and they also addressed the questions from the judges professionally.
The judging team for FYP competition this year was composed of our Adjunct Professor from industry and six faculty judges.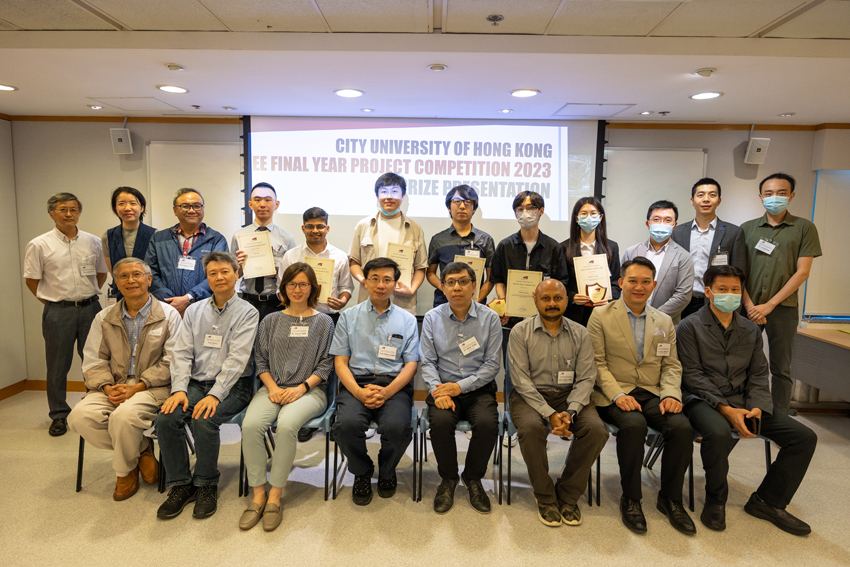 Please see here for competition details.
EE Major Allocation Information Sessions 2023
To facilitate EE Year 1 Students in choosing their majors (Computer and Data Engineering/ Electronic and Electrical Engineering/ Information Engineering/ Microelectronics Engineering) in the Major Allocation Exercise held in June 2023, four information major sessions were held on 28 and 29 March 2023.
The sessions successfully attracted 183 student counts. By joining the sessions, students got more thorough understanding about the features and curriculums, learning opportunities, career prospects of graduates, comparison of majors, etc. of the four majors being presented by our Year 1 and Major Programme Leaders – Dr Sammy Chan (Year 1), Dr Yanni Sun (CDE), Dr Andy Chan (ELEL), Prof H C So (INFE), and Prof Arindam Basu (MEE).
Major Allocation Information Sessions 2023
Before indicating choices of majors, it is a unique opportunity for year one students to learn more about the features, curriculums, learning opportunities, career paths of graduates, etc. of different majors. Apart from major talks, you can ask questions directly to the 4 major leaders. The event is highly recommended to all EE year one students.
Date: 28 March 2023 (Tue)
Time: 3:00pm-3:50pm (MEE Session)
Venue: G5-314 (Registration here)
Date: 28 March 2023 (Tue)
Time: 4:00pm-4:50pm (INFE Session)
Venue: B5-311 (Registration here)
Date: 29 March 2023 (Wed)
Time: 3:00pm-3:50pm (CDE Session)
Venue: G5-214 (Registration here)
Date: 29 March 2023 (Wed)
Time: 4:00pm-4:50pm (ELEL Session)
Venue: G5-214 (Registration here)
Electrical Engineering Student Chapter (EESC): 2023 EE T-shirt Design Competition
Award Presentation for EE Student Chapter T-shirt Design Competition 2023.
EE Student Chapter T-shirt Design Competition 2023 was held in Semester B 2022/23 to encourage students to explore and develop their potential beyond academic excellence.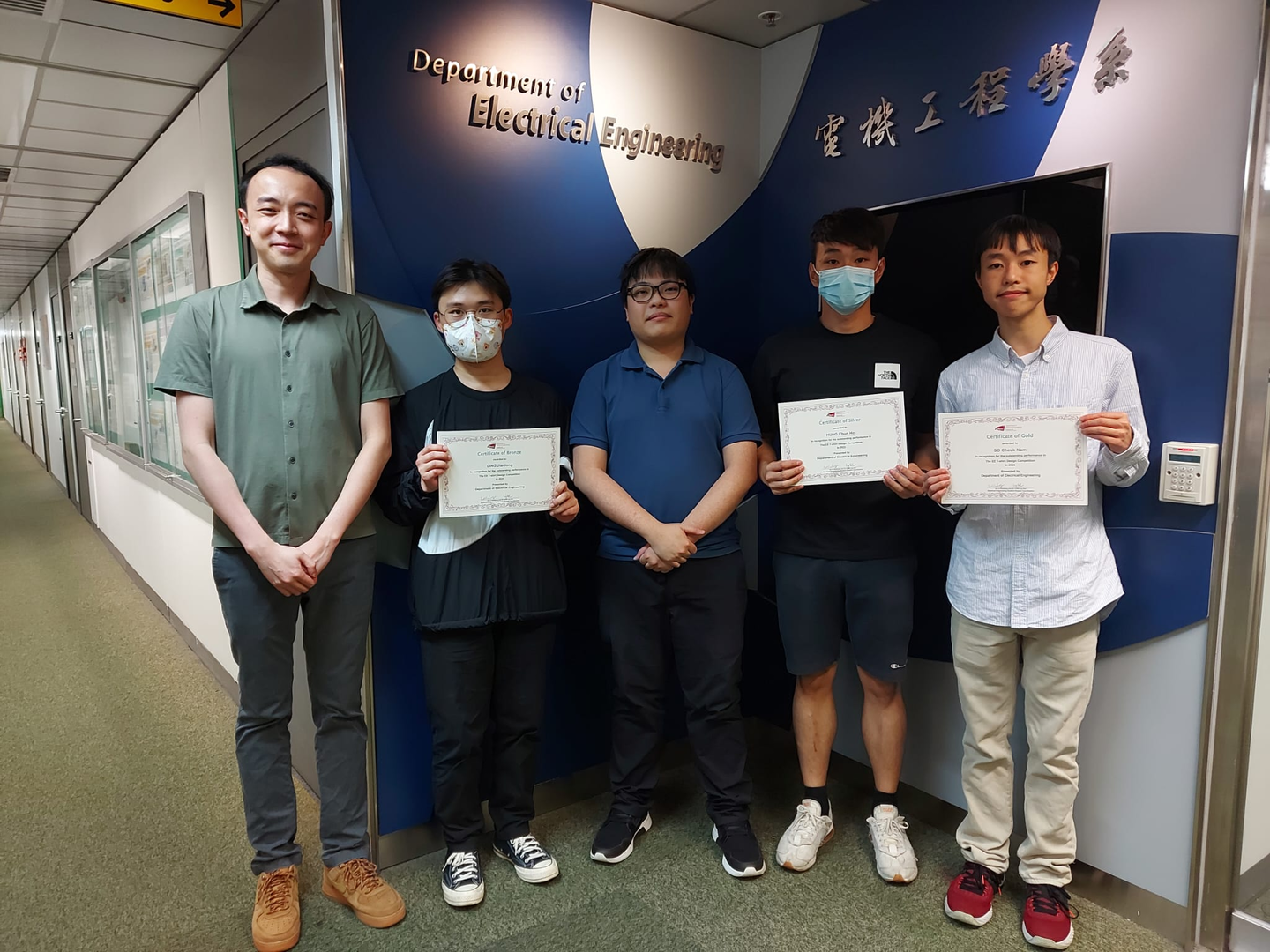 A total of 7 submissions were received and 76 EE students attended the vote. Congratulations to the following winners! Awards were presented to them by Dr. Li Hao Liang, EESC Advisor, on 9 May, 2023.
| | |
| --- | --- |
| Gold | SO Cheuk Nam |
| Silver | HUNG Chun Ho |
| Bronze | DING Jian Long |
EE Soft Skills Seminar (II): Career path in Hong Kong and overseas
Mr. YIU Pong Lam, Sam, graduated from BEng in Computer Engineering in City University of Hong Kong and currently working as a Software Development Engineer in Amazon, Vancouver, shared his own experience on local and foreign career prospect in the industry. The seminar was successfully organized on 13 February, 2023.
The seminar mainly focused on discussing different types of programming or software development related jobs our graduates can choose to chase in both local and foreign countries, explaining the Pros and Cons of each type of careers in Hong Kong based on his experience and how to approach different foreign job opportunities. Last but not least, Sam also shared some of his personal advice and techniques on helping our students when stepping in the industry in the future. Over 30 students joined this wonderful sharing sessions and submitted questions actively.

Click here for the video of this Seminar.
Click here for the PowerPoint material shared during the Seminar.