Virtual Student Project Exhibition 2021
The Exhibition will be opened until 28 July 2021, please register to visit the virtual platform.
Registration: https://cityu-ceng-spe2021.o-server1.com/registration/
The Student Project Exhibition is an important event of the College of Engineering, held on 29 and 30 June 2021. A wide range of student and staff research projects with daily applications, has been showed in an interesting and lively manner throughout the two-day event. In addition, there have also been 8 live STEM workshops on both days for secondary students to experience science, technology and engineering activities delivered by our teachers.
Virtual Workshop for Potential PhD Students
EE Department reaches out to students coming from different places for joining us as PhD students year to year. This year, a one-day workshop was held online on 19 July 2021 to meet with potential PhD candidates. There were 30 students from top universities in the UK, mainland China, Bangladesh, South Africa, India, and Singapore joined the workshop.
Apart from the introduction of the Department and the PhD programme, eleven 15-min research seminars presented by EE professors were arranged. The discussion and exchange over the Zoom platform was lively and inspiring. We look forward to meeting them face-to-face at CityU when they join our PhD programme next year.
The following faculty participating in the workshop:
Prof Arindam Basu, Dr Nelson Chan, Dr W S Chan, Dr Ray Cheung, Dr Bernard Chiu, Dr Chaoqiang Jiang, Dr Haoliang Li, Dr Ehsan Nekouei, Dr Yanni Sun, Dr Cheng Wang, Dr Alex Wong,  Dr Eric Wong, Dr Yixuan Yuan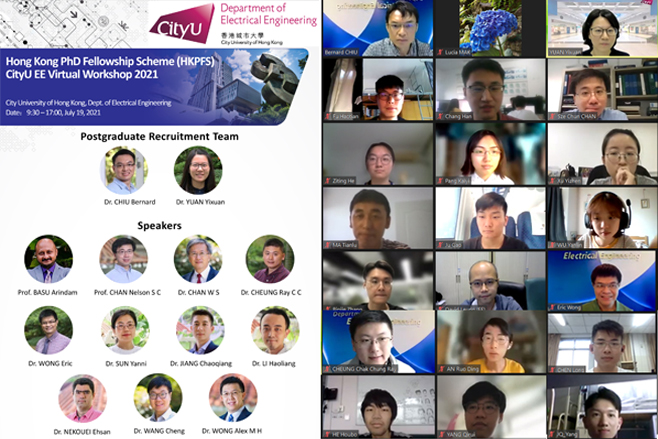 Video Clips: 1. Introduction  2. Dr. Ray CHEUNG  3. Dr. W S CHAN  4. Dr. Alex WONG  5. Prof. Arindam BASU  6. Dr. Yanni SUN  7. Dr. Haoliang LI  8. Prof. Nelson CHAN  9. Dr. Chaoqiang JIANG  10. Dr. Ehsan NEKOUEI  11. Dr. Eric WONG  12. Dr. Cheng WANG 
JS1205 Programme Information Session and Interviews plus Special Recruitment Session 2021
This year, JUPAS Programme Information Session and Student Interviews were held on 9 July 2021. Around 330 F.6 students who were serious in their final choice of studies joined the event, which included an inspirational talk, a programme information session, student sharings on their university life, different enriching learning opportunities and EE recent job market. The event ended with breakout group interviews with our EE faculty.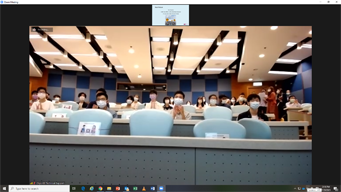 During the event, all participants showed their enthusiasm in studying EE and how they were impressed by the prevailing technologies and their applications.
A Special Recruitment Session in mixed mode was held on 19 July 2021 for a more in-depth exchange and sharing. Our Head of EE Department Prof Stella Pang kick-started the session, followed by 2 alumni sharing sessions, a lab tour and sharing sessions with the student ambassadors.
The following faculty participated in the sessions:
Dr Andy Chan, Dr KL Chan, Dr Leanne Chan, Dr Rosa Chan, Dr Sammy Chan, Dr Wing Chan, Dr Bernard Chiu, Dr LM Po, Dr Yanni Sun, Dr Albert Sung, Dr Wallace Tang, Dr Peter Tsang, Dr Alex Wong and Dr Yixuan Yuan
CityU EE Tech Tour 2021 was held on 4 June 2021. 4 EE faculty members together with 48 EE Undergraduate, Master and PhD students visited the Hong Kong Science and Technology Park to explore "Technology Trends and Opportunities in Hong Kong". The students also met up with EE Alumni in the startup community, and visited research centers including ASTRI and LSCM.
This tour was designed based on "play and learn" educational theory. By merging the visit to high tech companies with group project, competition and presentation, all the students found this tour very inspiring and eye-opening! 8 EE student winners include: He Houbo, Li jiaxing, Cai Mau Yin, Yupei Zhang, Alvi Rahman, Zhao yangyang, Wang Zhenzheng, Yuvraj Patra, Abdurrashid Sanka, Yan Boxun and Hon Shing Hei.

Videos
 

Sharing from Ms Jojo Cheung
(Chief Marketing Officer of HKSTP)
 
Sharing from Ms Pauline Ko
(Associate Director of HKSTP)

 

Sharing from Mr Edward Chan
(Associate Director of HKSTP)
 
Sharing from Chun and Tommy
(EE Alumni in HKSTP)

 

Sharing from Mr Jimmy Tao
(CEO of Vitargent)
 
Sharing from Mr Jack Wong
(Director of Zetakey)

 
 
Sharing from Mr John Tang
(Founder of CityImage)
 
 
CityU EE Established New Joint Research Laboratory with Six World-renowned Enterprises to Further Strengthen the Commercialization of Innovative Technology
City University of Hong Kong (CityU) - Department of Electrical Engineering (EE) and six world-renowned technology companies, including Compass Technology Company Limited, Intel Corporation, Hewlett Packard Enterprise, Pong Yuen Group, Provista Group, and United Microelectronics Center (Hong Kong) announced the establishment of the City University EE Joint Laboratory on 3 June 2021 to jointly promote scientific research and transfer of knowledge and technology, and strengthen the development of Hong Kong's innovation and technology.
Professor Michael Tse, Associate Vice-President (Strategic Research) and Chair Professor of Electrical Engineering was very pleased to witness the commencement of phase four of the joint laboratory programme and expected that the plan will develop more innovative technologies, in line with the trend of high-tech marketization, to promote University students to join global technological entrepreneurship and benefit our society.
Since its establishment in 2019, the CityU EE Joint Lab Programme has connected with a total of 22 CityU EE Joint Lab Partners. A series of cooperative and technical projects have been/will be launched with these partners. For example, ASM Pacific is now carrying out new research projects with EE Faculty. Gold Peak Group has arranged research projects and on-site visits to the Hong Kong Science and Technology Park and the Central KEF Advanced Audio Experience Center, and gave a training program to EE students. Microsoft Hong Kong and Macau arranged training programs for hundreds of EE students with relevant global certifications. SmarTone Group has set up a new 5G laboratory at CityU to enhance the research work of related Faculty and graduate students. SUGA International Group Co., Ltd. arranged a research project in high-performance and low-power hardware design with artificial intelligence for pets. Many more exciting collaborations are expected as we continue to work closely with our CityU EE Joint Lab partners.
| | | |
| --- | --- | --- |
| |   | |

Videos
| | |
| --- | --- |
|   |   |
| |   |
| CityU EE: Joint Lab Phase 4 Opening Ceremony 2021 |   |
| | |
| Joint Lab Phase 4 Welcome Speech by Professor Stella Pang 2021 | Joint Lab Phase 4 Welcome Speech by Professor Michael Tse, Associate Vice-President (Strategic Research) 2021 |
| | |
| Sharing from Dr Kelvin Pun (Compass) | Sharing from Mr Bill Yuan (Intel) |
| | |
| Sharing from Mr K C Fung (HPE) | Sharing from Miss Ida Chau (Pong Yuen) |
| | |
| Sharing from Mr Ben Wong (ProVista) | Sharing from Dr Mei Kei Ieong (UMEC) |
To celebrate the achievements of our alumni/ individuals in their career, and/ or servicing CityU EE community, or our society; EE is going to launch our exciting brand-new 1st EE Annual Awards!
Nomination Period: 1 February 2021 – 31 May 2021
Please find more details HERE.
Admission Interview and Information Session 2021 for Direct Applicants
Five admission interviews and information sessions were arranged for prospective local non-JUPAS applicants by Department of Electrical Engineering on 6 January 2021, 4 March 2021, 1 April 2021, 27 April 2021 and 25 May 2021. A total of 212 students mainly from UOW College Hong Kong (the former Community College of CityU), HKU Space Community College, PolyU HK Community College, and Vocational Training Council participated. The Admission Tutors Dr Leanne Chan and Dr Alex Wong introduced to the students about the department, its programmes, and the admission information; while our current EE students were so enthusiastic to share their University life and various learning experiences with the participants. Group interviews were conducted on the days.

2021 CityU JUPAS Virtual Consultation Day
CityU Virtual JUPAS Consultation Day was held on 22 May 2021. EE Department has offered three 1.5-hour sessions throughout the day where admission talks, inspiration talks, consultation and student experience sharing were delivered.
Sharing Session on ITF Grant Application
EE Department is committed to perform innovative and high impact research. Sharing sessions on different grant applications have been held from time to time allowing faculty to exchange experiences on grant applications and explore collaboration opportunity.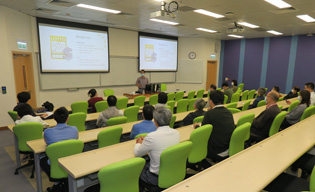 A sharing session on Innovation and Technology Fund (ITF) grant application was held on 29 April 2021. Prof Henry Chung (Chair Professor of EE), who has been successful in getting ITF grants over the years, shared with colleagues the key elements to consider when preparing ITF proposals and tips to seek for collaboration with industrial partners, on top of a brief introduction of the funding opportunities available from ITF.
ASM Pacific Technology Limited visited CityU EE
Six representatives of ASM Pacific Technology Limited, one of our EE Joint Lab scheme partners, visited EE Department and the State Key Laboratory of Terahertz and Millimeter Waves on 8 April, 2021. In addition to share EE department's strengths in teaching and research, EE faculty also had fruitful discussions on the ways to support student learning and research collaboration. Several research areas related to the most advanced industrial automation and communication technologies were deliberated.