Introduction
In response to EDB's advocacy of promoting and facilitating STEM education, we are extending our invitation to elite secondary students to join our summer programme. We tailor learning materials and activities for S4 and S5 students, aiming at cultivating their interest in engineering innovation and through teamwork, boosting their confidence in communicating in a multi-national environment.
This year, CityU EE Summer School 2020 will be organized online in response to the coronavirus pandemic worldwide. It will be its fourth cohort since its launch in 2017. The four-day Summer School is hosted by the Department of Electrical Engineering.
Due to the uncertain suspension of secondary schools, the EE Summer School 2020 is scheduled on every Saturday between 1 August and 22 August. Participants will be guided to go through an eye-opening learning journey through a series of lectures and hands-on activities to internalize and surpass their innovation and discovery capabilities. To enrich interactions among stakeholders, partner schools are encouraged to set up student groups. Our colleagues will conduct well-designed teaching and learning activities with the assistance of partner schools' teachers via an interactive online platform.
Each participating school has to provide a best 5-minute video clip for competition by August 25, 2020. An online closing ceremony together with award presentation is scheduled on August 29, 2020.  Selected awardees will be invited to give a 5-minute sharing.
Photos from previous years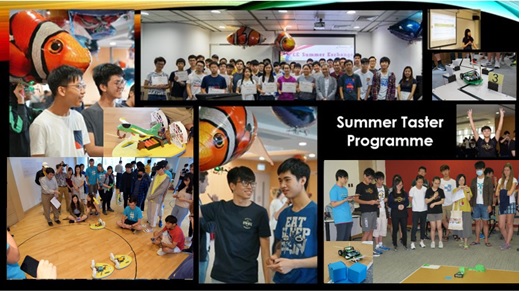 Programme
Target Students
S4 and S5 Students taking Physics, M1/M2, ICT, Chemistry, Biology, or IS subjects

Medium of Instruction
English supplemented with Cantonese

Study Mode
Online face-to-face real-time learning Class
Class Schedule (sample of schedule for Programme 2020)
 
Day 1
1 August
Day 2
8 August
Day 3
15 August
Day 4
22 August
Day 5
29 August
9:00 - 12:00
Section 1
Module 1/
Module 2/
Module 3
Section 2
Module 1/
Module 2/
Module 3

-----
Lunch Break
13:00 - 16:00
Closing Ceremony
(2:00pm-3:30pm)
Remarks: Participants can enroll each module once only.
What Will You Learn?
Module 1: Design and Implementation of Simple Microprocessor-Controlled Systems
This module provides a platform for students to design and build simple microcontroller-controlled systems and conduct hardware and software experiments. Students will learn the system architecture with microprocessor, sensors, and actuators, and firmware design. They will be taught how to build two example systems: 1) automatic hand sanitiser dispenser and 2) infrared forehead non-contact digital thermometer.

Module 2: AI & Machine Learning
This module provides students with the basic knowledge and hands-on practices of artificial intelligence. Students will learn how to train an AI model to recognize different fashion products from images using Google Collaboratory. Basic understanding of the Python programming language is an advantage but not a must. Good knowledge in mathematics, calculus, and probability is preferred.

Module 3: Building Intelligent Chatbots on Cloud
This module provides students with the essential knowledge and hands-on practices of application development and cloud computing. Students will acquire different programming skills through a series of interesting coding games. They will be guided to build their own chatbots that can interact with friends lively.
Programme Fee
Free of Charge; Caution money of HK$1,000 will be refunded subject to attendance rate not less than 75% per module. (Closing with award presentation ceremony on August 29, 2020 would be excluded.)
Search our Video at YouTube
Application
School-based nomination: Each school can nominate a maximum of eight S4/S5 students, who
a) are taking Physics, M1/M2, ICT, Chemistry, Biology, or IS subjects; and
b) have a strong interest in STEM knowledge and hands-on exercises
Acknowledgements
Co-organizers (Listed in Alphabetical Order)
Aberdeen Technical School
Caritas St. Joseph Secondary School
Carmel Bunnan Tong Memorial Secondary School
CCC Fung Leung Kit Memorial Secondary School
Christian Alliance S W Chan Memorial College
Hong Kong and Kowloon Kaifong Women's Association Sun Fong Chung College
Islamic Kasim Tuet Memorial College
NLSI Lui Kwok Pat Fong College
Po Leung Kuk Choi Kai Yau School
Pui Kiu College
Pui Kiu Middle School
S.K.H. Tsang Shiu Tim Secondary School
St. Paul's Convent School
SWCS Chan Pak Sha School
Tseung Kwan O Government Secondary School
Wa Ying College
Wong Shiu Chi Secondary School

Sponsor
Winstars Enterprise HK Limited
Enquiries
 
 
Enrollment & Enquiries
Miss Angela FOK
cyfok2@cityu.edu.hk
3442 7792
Programme-in-charge
Prof Henry CHUNG
Chair Professor
Department of Electrical Engineering
eeshc@cityu.edu.hk
News & Links