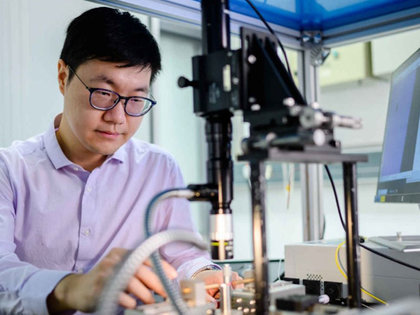 Dr Wang Cheng Winning Croucher Innovation Award 2020
Dr Wang Cheng has been conferred the Croucher Innovation Award 2020. The Croucher Innovation Awards are substantial awards which aim to identify exceptionally talented scientists from all countries working at an internationally competitive level and to offer support to these "rising stars" at a formative stage in their careers. Dr Wang will receive a funding of HK$5 million to be used over five years for advancing his expertise and research work, contributing to the development of education and research in Hong Kong.
Dr Wang's current research focuses on realising integrated lithium niobate photonic circuits for applications in optical communications and nonlinear optics. He works on the study of light-matter interaction and optoelectronic phenomena in nanostructures. Using state-of-the-art nanofabrication technology, Dr Wang and his team develop photonic elements that can be applied for data communications, new color generation, ultimate sensors and quantum technology. Dr Wang, as lead author, published 4 papers in top journals - Nature. In recent two years, he has also received The President's Awards 2020 and The Excellent Young Scientists Fund (Hong Kong and Macau) of the National Natural Science Foundation of China (2019) .
More about the good news can be found at Croucher Foundation, Singtao Daily, Headline Daily, Oriental Daily, Hong Kong Economic Times, Hong Kong Commercial Daily, Hong Kong Economic Journal, Bastille Post, Tai Kung Pao, and Wen Wei Pao.